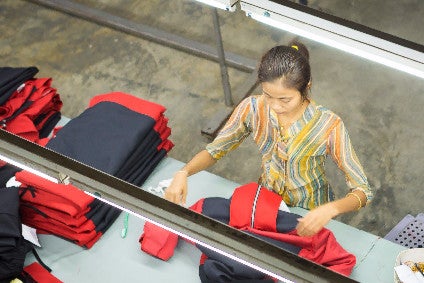 A new three-year project has launched in Myanmar with the aim of improving the work environment in the country's garment sector through the generation of more decent jobs, sustainable value addition, improved productivity and social dialogue.
Backed by the Danish Market Development Partnerships Fund, the project will take place in 12 factories supplying Western brands, including Danish fashion retailer Bestseller. It will be carried out in collaboration with the Danish Ethical Trading Initiative, the British Ethical Trading Initiative, Danish trade union 3F, and Aalborg University in Denmark.
The Danish Ethical Trading Initiative (DETI) says the project, which will run to the end of 2020, supports a major democratic transformation in Myanmar, including a long-term effort to increase competitiveness and strengthen respect for human and labour rights in the country's textile and garment production.
"The purpose of the effort is to improve the efficiency, quality and working environment of textile production, and increase knowledge of human and labour rights and social dialogue for the benefit of both social and economically sustainable development of the industry," the DETI says.
"The project's results will be used to develop a defined business case that can be used to spread experience to companies and employees throughout the textile industry in Myanmar. At the same time, the project contributes to the UN's World Social, Economic and Environmental Sustainable Development Strategy, especially World Goal number 8, decent jobs and sustainable economic growth."
Project leaders are hoping for two outcomes. Firstly, that employers and workers at project factories benefit from more decent jobs. And secondly, that it increases sector-wide awareness of the need for improvement in the work environment in the areas of productivity and social dialogue.
The domestic stakeholders in the project are SMART Myanmar, Yangon Technological University and local trade unions, Industrial Workers Federation of Myanmar (IWFM) and UNICEF's Multiple Indicator Cluster Survey (MICS) project.