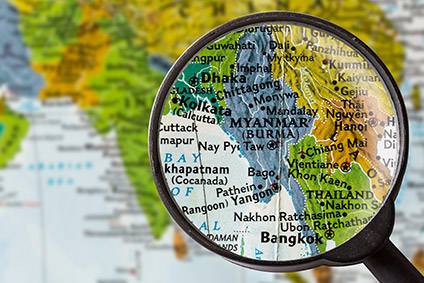 Myanmar's garment workers are calling on global fashion brands to condemn the country's military coup, provide meaningful support for their protests and to not order from factories that support the regime.
Speaking at an online conference organised by workers' rights organisation Remake, workers and union representatives voiced their need for more support and aid from brands and the government.
It follows a weekend when 60 protesters were killed, hundreds were injured and thousands arrested, bringing the number of civilians killed during the unrest to over 500.
"During Covid and the economic slowdown, fashion's most essential workers have been dealing with the worst humanitarian crisis of our lifetime Ayesha Barenblat, CEO of Remake said. "This includes reduction in wages and an increase in gender based violence. With a rise of authoritarianism and dictatorships around the world, we are seeing a rollback on garment worker rights and the very safety of workers erode globally.
Many garment workers have had to flee the industrial zones because of the massacres, and so many factories have had to close, according to the Solidarity Center.
Ko Aung from the Federation of General Workers Myanmar (FGWM), and whose members produce for Mango, Zara and Primark, said: "Workers are very worried about their safety if they are on the road, because the military is shooting everyone on the road, so safety is a big issue we [garment workers] face even to go to work."
He added that garment workers, other workers, the FGWM and the labour alliance organisations had started a work stoppage campaign for the whole country nationwide.
"We all think that if we can stop the economy, that it will really hit the military government, and we think it is the solution to solve the problem we face."
Barenblat of Remake told those on the call that the brand response to the growing crisis in Myanmar has been "at best boilerplate, at worst silence". It was a view shared by many on the call.
Andrew Tillett-Saks, organiser for the Solidarity Center, said: "One point I think that to highlight about the brands in Myanmar right now is that not only have they not helped yet, but I think it's hard to say that they don't already have quite a bit of blood on their hands."
He says all major brands that operate in Myanmar were asked to support the right to civil disobedience on 15 February.
Kha Kha from trade union Let's Help Each Other (LHEO), urged brands to stop ordering from factories that support the military regime, most of which she says are run by Chinese companies.
"I demand international brands follow their codes of conduct and protect our ability to protest. Realise the Chinese government is close to the military. We need our wages."
Myo Myo Aye of the Solidarity Trade Union of Myanmar (STUM), added: Before the military coup, Myanmar workers had already faced larger issues due to the Covid-19 pandemic. So when faced with the coup, we thought that our employers, the brands that we worked for, would provide aid. Instead, they didn't say anything about our demand for democracy or need for human rights. Until now, we still have not received any aid or meaningful support from brands despite the current conditions we're facing."
Most of the unions are calling for comprehensive sanctions on the Myanmar economy to try to put pressure on the country's military.
In their call to action, they are requesting:
Brands must urge their suppliers to support workers' rights to protest and participate in the civil disobedience movement against the military coup
Brands must halt orders from factories that support the military regime.
Brands must ensure that worker wages and severance are paid through the crisis. Many workers who are yet to be paid have fled to rural areas and are in need of food.
Foreign governments impose comprehensive economic sanctions to pressure the military and to support workers fighting for democracy.
Supply chain concern
A statement from Action, Collaboration, and Transformation (ACT) on Living Wages, whose members include Inditex (Zara) and Primark, says members are "deeply concerned" about the current developments in Myanmar.
"As businesses, we are committed to fully respecting human rights and labour rights in our operations and supply chains, in particular, the right to freedom of peaceful assembly, freedom of opinion, and freedom of association under the Universal Declaration of Human Rights.
"At this time, our focus is on the workers and employers across the more than 200 factories in our combined supply chains in Myanmar. As ACT members, we are working jointly with our business partners and trade union partners in Myanmar towards ensuring full implementation of freedom of association in line with International Labour Standards and the Myanmar Guideline on Freedom of Association.
"We will continue to cooperate with our key supply chain partners to maintain open and effective lines of communication about the status of business operations and future planning in line with the ACT purchasing practices commitments and engage through established ACT dialogue platforms to jointly address industry challenges.
"As global retail brands and trade unions, we are monitoring developments in Myanmar. Responsible business requires a context where fundamental human rights are respected."
A spokesperson for Primark, said: "The situation in Myanmar is increasingly challenging and as a result, we have had to take the decision to pause the placing of new orders. We hope this will be temporary as we are committed to supporting our suppliers and their factories, and in turn, protecting the livelihoods of the workers in those factories. We are also committed to honouring all existing orders with our suppliers in Myanmar, however long they take to fulfill. We remain in constant contact with our suppliers and continue to monitor the situation very closely, while following the advice of the UK Government and third-party experts."
Mango didn't respond to a request for comment at the time of going to press.
The US this week suspended all engagement with Myanmar under a trade and investment agreement until the return of a democratically elected government, while a growing number of brands have suspended production with suppliers in the country, including Italy's OVS, H&M Group, and Benetton.
Garment, footwear and accessories are Myanmar's three largest export sectors, accounting for one-third of total exports. Exports of garments, footwear, and accessories have more than tripled since 2016 to US$5.8bn, with the sector also a huge source of employment. The nearly 600 factories in the country employ around 500,000 workers.