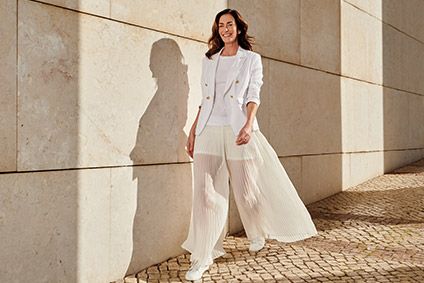 UK digital clothing retailer N Brown has outlined plans for a pre-emptive equity raise of about GBP100m (US$130.7m) to strengthen its balance sheet and accelerate profitable growth amid a drop in first-half profit and revenue.
In a trading statement for the 26 weeks ended 29 August, N Brown said it is proposing a fully supported equity raise with the offer open to all shareholders at a price of GBP0.57 per share.
The agreement of new and extended bank facilities are conditional on completion of the capital raising.
N Brown also plans to delist its ordinary shares from the main market and seek admission to the AIM.
The news comes as the retailer saw adjusted profit before tax for the period tumble 28.9% to GBP22.6m from GBP31.8m a year earlier. Statutory profit before tax fell by 25% to GBP14.1m.
Group revenue was down 17.6% to GBP356.7m from GBP432.9m last year, while product revenue dropped 20.5% to GBP224.5m.
N Brown said the decline in product revenue was primarily driven by the sudden and significant impact of Covid-19 at the start of the period. Product revenue was down 28.8% in the first quarter and recovered to be down 12% in the second quarter when compared to the same periods in the prior year.
The retailer cited "solid progress" in the first half regarding its strategy to drive profitable digital growth, however, with 92% of its product revenue now digital. This marks an increase of 8 percentage points on last year.
"Having restructured the business and transitioned to more than 90% of revenues from digital, we now see a clear opportunity to capitalise on various industry drivers, not least the increasing trend towards online retail, and further improve our customer proposition," said Steve Johnson, chief executive.
"Today's separately announced proposed capital raise will give us the firepower to invest further in our digital capabilities and accelerate our growth strategy, whilst significantly strengthening the group's balance sheet to provide us with ongoing flexibility and a strong platform from which to deliver attractive returns for all of our shareholders.
"Whilst we are mindful of an uncertain UK retail environment, we are confident we can continue to build on the unique strength of the group's brands. We remain focused on creating a sustainable business delivering profitable growth over the long term."
Vulnerability of relying on older shoppers
Emily Salter, retail analyst at data and analytics company GlobalData, notes dependence on apparel, as well as an older customer base, stifled N Brown's performance in the first half of FY2020/21, with group revenue falling 17.6%.
"While the older age groups are underserved in the clothing and footwear sector, making it a good move for the retailer to target them in the long term, older shoppers' appetite for spending throughout lockdown and in the summer, when some sense of normality returned, fell significantly, more so than their younger counterparts. With revenues suffering, N Brown took decisive and essential action including cutting marketing expenditure to achieve operational cost savings, enabling it to reduce net debt by 17.3%."
Salter says these weak results will be disheartening for N Brown, as despite placing a strong emphasis on being a leading digital retailer, through developing apps for its brands and winding down its offline business, it has failed to capitalise on the significant shift to online this year.
"As an online pureplay it is once again in a better position that many multichannel retailers as the second lockdown in England starts today, but dampened demand from its older shopper base will stifle sales leading up to Christmas. The performance of N Brown's key brands shows the vulnerability of relying on older shoppers, with younger Simply Be faring the best at -12.2% in H1 versus the more mature Ambrose Wilson at -36.6%."
She adds N Brown must work on building destination appeal to compete with other online pureplays which have seen impressive growth during the pandemic.
"Rival The Very Group thrived throughout the lockdown period, growing retail sales by 36% in the three months to the end of June, despite a decline in fashion, due to its strong multi-category offer. While N Brown's launch of its Home Essentials brand in April was well-timed and helped to boost total home and gift sales by 25.4% versus last year, the retailer must build brand awareness of this to fully capitalise on the increased spend on home items.
"Differentiation of its credit offer is also important as economic uncertainty grows and demand for credit increases, as consumers have an overwhelming choice of where to purchase using credit due to the proliferation of 'buy now, pay later' options."