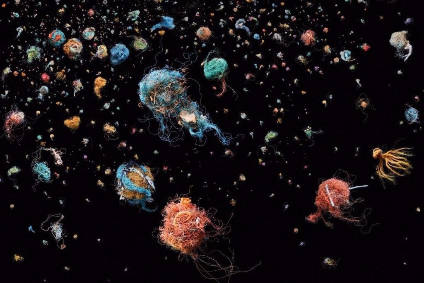 A non-profit organisation in the Netherlands has launched a new automated technology that sorts large volumes of mixed post-consumer textiles based on material composition.
With a focus on end-of life and systems redesign, Amsterdam-based Circle Economy aims to achieve a zero-waste industry by developing and establishing a commercial and scalable model for closing the loop on post-industrial, pre-consumer and post-consumer textiles. It has previously received funding from C&A Foundation, the corporate foundation affiliated with global retailer C&A, to the tune of EUR250,000 (US$278,000) in 2016.
Its Fibersort technology is able to automatically sort large volumes of mixed post-consumer textiles based on fibre composition, with the first Fibersorted materials now commercially available.
According to the company, these sorted materials are perfectly suited to become inputs for textile recycling processes, and commercialisation of the Fibersort will bring closed-loop textiles one step closer to reality.
The Fibersort project partners, funded by Interreg North-West Europe (NWE) – a European Territorial Cooperation Programme funded by the European Commission – will soon be testing the sorted fractions in textile to textile recycling processes, with results due to shared in future Fibersort reports.
The Fibersort technology is uniquely positioned to deliver two things, says the non-profit. First, it reduces the need for virgin textile materials by providing feedstock more efficiently for textile-to-textile recycling – alleviating the environmental pressure of producing virgin materials. Second, it creates additional market value and business opportunities by making it economically feasible to sort textile excess (waste).
But this technology must be commercially viable to help transform waste into new resources. The Fibersort project partners Circle Economy, Valvan Baling Systems, Reshare, Procotex, Worn Again, and Smart Fibersorting are working with industry stakeholders to better understand end-markets for sorted textiles, optimise the machine and validate the business case. In September 2019, the consortium will launch a commercially viable Fibersort process into the market and release reports to support the growth of this pivotal technology over time.
Cyndi Rhoades CEO of high-value recycler Worn Again notes: "The Fibersort will enable suppliers of post-consumer textiles to meet the feedstock specification for our process more efficiently than today's sorting methods. The first results of the Fibersort are looking very promising. We are very optimistic that this innovation will help to provide advanced sorting capabilities for the new generation of textile to textile recycling technologies like ours and help the industry on its way to circularity."