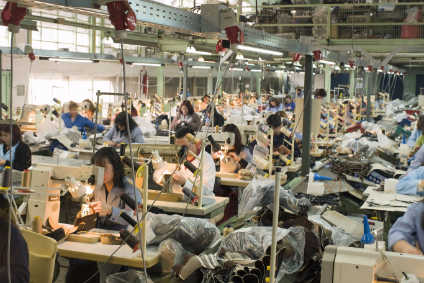 The Fair Labor Association (FLA) has partnered on a new initiative to collect and analyse wage data around the world in a bid to drive fair compensation for workers in the garment sector.
The non-profit organisation, which works to promote and protect workers' rights and improve workplace conditions, is to collaborate with ASN Bank on the move which will commit EUR15,000 (US$16,863) to the project.
The funds will help support the development of the FLA's fair compensation dashboard, which will incorporate different living wage benchmarks to help businesses, governments, NGOs and others track how much workers are earning around the world and identify where they are and are not earning fair wages.
"Far too often there is a significant gap between the average compensation for garment workers and a sustainable and fair wage," says FLA president and CEO Sharon Waxman. "Closing the wage gap is essential and requires coordination and cooperation from all sectors, including industry as well as governments. We welcome ASN's support for our ongoing work to track supply chain wage data as part of our shared vision of a future in which apparel workers receive fair pay in factories everywhere."
Using data from its dashboard, the FLA will contribute to ASN's 2019 Living Wage Report, a project of the Platform Living Wage Financials, a coalition of 11 financial institutions that encourages and monitors investee companies to address the non-payment of living wages in their global supply chains.
"In many countries, the minimum wage in the garment sector is not enough to live on. It's time to change that," said Irina van der Sluijs, senior advisor for human rights at ASN Bank. "ASN Investment funds invest in garment companies, and as socially responsible investors we can influence policy and practice for the good of society. The garment companies in which our funds invest have achieved our sustainability criteria, and we want to challenge them to ensure that their garment workers and others in the supply chain receive a living wage."
The new dashboard will also complement the wage data collection tool launched by the FLA last year. This tool calculates the average worker wage within a factory by recording information about specific components – base wages, incentive pay, in-kind benefits, and other aspects of worker pay – across several different job descriptions on a factory floor. It separates overtime pay from regular wages so as not to skew the overall compensation.
The tool enables FLA and its corporate members to see a factory's average wage mapped on a wage ladder and compared against existing living wage benchmarks and local wages. With the new dashboard, FLA affiliates will have a place to upload their wage data and view individualised analyses of compensation in their supplier factories as compared to living and prevailing wages in the region.