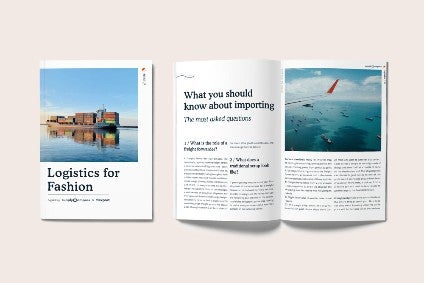 Product development and production management platform SupplyCompass has teamed with freight forwarding company Flexport to launch a comprehensive guide that aims to simplify logistics for fashion businesses.
By explaining the most common terms and exploring key factors to be aware of, 'Logistics for Fashion' is described as an essential guide for brands looking to better understand the complexities of moving goods around the world – not only more effectively, but with as little impact as possible.
Fashion supply chains are incredibly complex and usually spread across continents – no more so than now, in the midst of a global pandemic. Ensuring the right quantities are ordered, accounting for the time it will take to travel, and dealing with unforeseeable delays and mishaps can make the world of logistics difficult to navigate, especially for SMEs. In addition to this, a growing need for accounting for sustainability and more responsible modes of transportation have led to fashion brands and manufacturers reconfiguring their logistic operations.
The guide includes a step-by-step infographic of the production-to-delivery process, as well as explaining roles and responsibilities and the most commonly used incoterms (rules that determine the terms for the international sale of goods).
It also explores the role of sustainability in logistics and considers the different factors when deciding on transport via air, sea, and rail. In addition, it answers commonly asked questions about importing, identifies key factors to watch out for, and outlines a useful glossary of terms.
"Logistics is an overlooked part of the supply chain, but a vital one," says SupplyCompass co-founder, Flora Davidson. "Managing production and ensuring its safe delivery into the hands of consumers is a critical process for fashion brands to get right.
"Flexport is leading a much needed digital revolution of this traditionally opaque and difficult to navigate journey from factory to the end customer. By collaborating with them on this guide, we wanted to provide fashion SMEs with a useful tool to help simplify and demystify logistics. And it's more important than ever right now, with logistics top of mind because of Covid-19. Delayed goods because of logistics issues have huge implications in terms of time and cost, so we wanted to do our part to help fashion companies with this challenging part of the production-to-delivery process."
Flexport UK General Manager, Christos Chamberlain, adds: "Digital transformation is essential for businesses that want to run an efficient and sustainable supply chain. Think about the supply chain not only as the physical movement of goods, but also the data, operational processes and communication flows that keep it running. By really understanding the elements that make up your supply chain, you will be able to make a digital transformation work for your business. This guide can help you dissect your supply chain."
Click here to download the SupplyCompass and Flexport Logistics for Fashion guide.