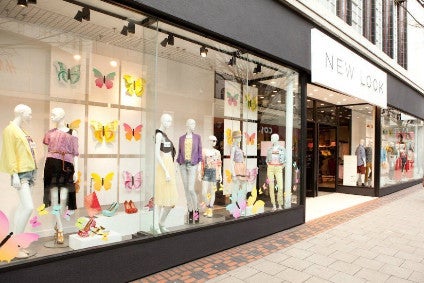 New Look has suspended payments to its suppliers indefinitely as it works to navigate the Covid-19 crisis.
One of its suppliers had reached out to the BBC saying the UK fashion retailer had informed them of the decision in a letter signed by CEO Nigel Oddy on 2 April. He is said to have told suppliers they can collect their existing stock and directs them to government support schemes "throughout the world" where they can pursue any available options.
According to its published factory list, New Look sources from 572 factories across 23 countries located in the Far East, Indian subcontinent, Middle East and Africa, and Europe.
A former supplier to the group who preferred to remain unnamed told just-style it last worked for New Look in 2019 and "thankfully" had no running orders with them for this year.
He said any cancellations would leave suppliers "in a very precarious situation" as the raw materials may already have been paid for by the supplier.
"With the very low margins in this industry, it would be impossible for any garment manufacturer to survive with even a small volume of goods cancelled at any given moment, and this would, in turn, lead to the inability of the factories to pay monthly salaries/wages to its employees at a time when they need it the most."
New Look confirmed the decision in a statement sent to just-style. It also said it would not be placing new orders until further notice.
"We, like many other retailers, are having to make difficult and necessary actions to try to mitigate the impact the Covid-19 outbreak has on our colleagues and business. Whilst our online sales channels remain open, albeit on a significantly reduced basis, we have regrettably had to inform suppliers that we cannot place new orders until further notice and will be temporarily postponing outstanding supplier payments until the situation improves.
"We have not taken this decision lightly and have only done so out of absolute necessity given the exceptional circumstances we are in.
"We greatly value our relationships with suppliers and are actively identifying opportunities where they can hold product for use for autumn-winter this year or spring-summer next year."
Commenting on the move, retail supplier engagement specialist, Solutions for Retail Brands (S4RB), says the decision could cause "irreparable damage to New Look's supply chain," and that its supplier relationships will take years to repair – if at all.
David Taylor, director at S4RB which works with retailers including Walmart, Walgreens Boots Alliance and the Co-Op said: "New Look's drastic actions have to be seen within the wider context of the struggles on the high street which have taken their toll over recent years followed by the current Covid-19 pandemic, however the impact this decision will have on the business when 'normal' trading conditions resume could take years to recover from.
"Of course, New Look, like many other retailers, is facing a challenge to survive but this short-sighted move is highly surprising because its collaborative approach to supplier relationships previously set it apart from other fashion retailers."
This "short-term approach" he adds could leave the retailer scrambling to find new suppliers in the future and pay higher prices from suppliers wishing to build greater risk into their contracts.
"Fast fashion will need to innovate to reverse the trend of consumers opting for more sustainable options like second-hand fashion or to pay more for fewer items from speciality retailers. Supplier trust and retailer-supplier collaboration will be key for any retailer wishing to commercialise enough innovation on the scale required.
"This will have caused huge damage to relationships developed over many years and New Look's competitors will be the ones to benefit. The approach is clearly to focus on survival in these unprecedented times, but without established and engaged suppliers, recovery will be even more challenging if not impossible."
A number of high street retailers have cancelled orders with suppliers and are said to be delaying payments as stores around the world are forced to close as part of country-wide lockdown measures to try to stem the coronavirus outbreak.
Primark was widely criticised for cancelling all orders with its suppliers after closing its stores on 22 March, but has now set up a fund to cover the wages component of orders that it cancelled in Bangladesh, Cambodia, India, Myanmar, Pakistan, Sri Lanka and Vietnam.
Meanwhile, Swedish retailer H&M has said it will pay and take delivery of goods already manufactured by its suppliers, as well as those in production; while Spanish fashion giant Inditex, which owns the Zara fashion chain, is to pay its Spanish workers their full salaries until 15 April – including those in its domestic factories.