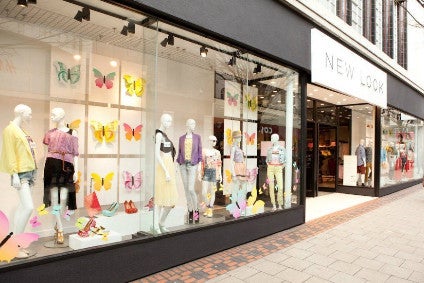 New Look's nine-month results have left analysts with little positivity for 2018 following a drop in revenues and plans to cut costs, reignite product appeal and re-engage with customers in a bid to salvage its falling UK clothing market share.
For the 39 weeks ended 23 December, overall group revenues were down 6.3% to GBP1.07bn (US$1.5bn), while group like-for-like sales slumped 10.6%. The results were hit by a poor domestic performance where like-for-like sales dropped 10.7% and own website sales plunged 15%.
New Look's market share dropped 0.2 percentage points to 2.3% in 2017 and is forecast to decline further in 2018.
At the end of the 39-week period, New Look recorded an adjusted EBITDA of GBP43.8m, an underlying operating loss of GBP5.1m, and a loss before tax of GBP123.5m. The company did not provide year-on-year comparisons.
Executive chairman, Alistair McGeorge, said the results were as expected as third-quarter trading remained "challenging", with sales and margins impacted by the high level of discounts.
"I am confident we are now making the necessary changes to get the company back on track and we continue to have sufficient liquidity to deliver our plans. In particular, we are focusing on reducing costs, recovering the broad appeal of our product and reconnecting with our customers."
Charlotte Pearce, retail analyst at GlobalData, said that while there has been crisis speculation with rumours of store closures and a company voluntary arrangement (CVA), New Look failed to comment on this.
She added: "While the retailer needs to deliver improved results quickly, we are unlikely to see any positive impact from changes made to the product proposition and target audience until the back end of 2018 considering that brand perception needs to be drastically improved."