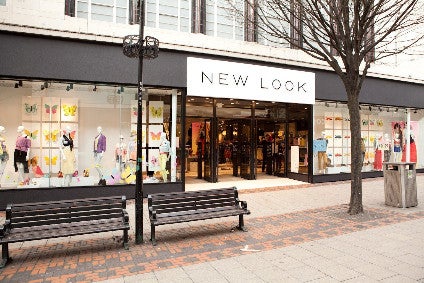 UK fashion retailer New Look has reached a "critical step" in its turnaround plans after reaching an agreement in principle with its key financial stakeholders to cut its debt by GBP1bn (US$1.3bn) and raise GBP150m in new capital to boost the business.
The struggling retailer, which in November upped the number of retail stores set to close to 85 from 60, says the debt-for-equity swap proposal will reduce long-term debt from GBP1.35bn to GBP350m. It also says the agreement provides the group with sufficient resources to continue investing in the business to drive growth and profitability.
The transaction is expected to complete in the first quarter of the retailer's 2020 financial year (April-June 2019), and effectively hands control of the business to creditors.
"Today's agreement represents a critical step in our turnaround plans and lays the foundations to secure the future and long-term profitability of New Look by materially deleveraging our balance sheet and providing us with the financial flexibility to better attack our future," says executive chairman Alistair McGeorge.
"Over the past year, we have made significant progress with our wider turnaround plans to rebuild our position in the UK womenswear market and recover the broad appeal of our product whilst implementing significant cost savings and efficiencies.
"However, it has been clear for some time that the group's existing level of indebtedness has been constraining our ability to accelerate our turnaround plans and would continue to limit our growth in the future."
Meanwhile, in an update on its financial performance, New Look reported a 5.7% decline in UK like-for-like sales during the crucial December trading period – evidence that it still lacks a strong brand identity and product appeal, according to Emily Salter, retail analyst at GlobalData.
"New Look's UK like-for-like sales were positive in November and negative in December – this polarisation is in opposition to the trend experienced by other retailers across the clothing and footwear sector," she says. "Clothing specialists such as Next, Primark and Asos had an awful November as shoppers held off spending as the press coverage surrounding Brexit and economic uncertainty ramped up, and heavy discounting prevailed.
"Sales improved for a number of retailers in December, including Next, as shoppers finally began to purchase for Christmas. However, New Look seemed less able to harness this festive sentiment, blaming increased promotional activity and lower footfall for poor December performance."
The retailer's debt-for-equity deal, meanwhile, will enable it to accelerate its transformation plan – a key move if it is to successfully compete with the likes of Asos, Primark and PrettyLittleThing, Salter adds.
"The retailer is aiming to return to a product range with broad appeal, that is more value-led – a sensible strategy given the struggles that a number of midmarket retailers are facing in comparison to the continued success of value-end retailers."