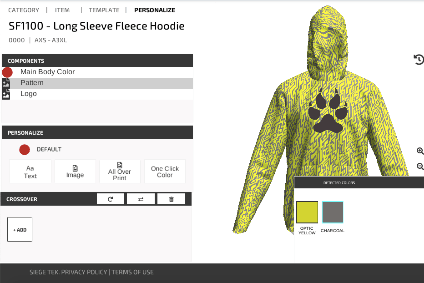 US technology firm Siege Tek has launched a 3D design platform that automates the process of mass customisation from consumer to manufacturer, while promising to drive down costs, wastage and time-to-market.
In an environment where personalised items are being increasingly demanded, the technology automates and connects all parties within the supply, and provides consumers with a direct link to manufacturers – allowing them the freedom to customise apparel via the manufacturer's web platform.
The technology debuted on a sports apparel company's website, Siege Sports – a separate entity to Siege Tek. The technology also boasts additional functions and features including analytics, allowing brands to track what is popular among consumers, and creating items driven by trends and ultimately targeting audiences in the right way.
Speaking to just-style, Siege Tek's president Wayne McMann explains: "The platform empowers consumers; creating the digital supply chain of the future for companies and providing manufacturers with the inputs they need to successfully produce custom items quickly."
The technology claims a reduction in lead time of two weeks or less, zero inventory, lower labour costs, higher efficiencies and a direct channel of communication with consumers.
Chris Barnes, CEO of Siege-Tek, also tells just-style: "Whether making one or 100,000 the scale, the efficiency is the exact same. The time it saves – you can't put a measure on it. What would have taken someone eight or nine hours to design, put it into production-ready, have it be sent to production, was 12 to 13 hours. This can now be done in 15 seconds. More than that it allows the user to get the look and design they want. People want custom, they want it now. What has been built is a platform by which it is scalable and can be integrated by any company out there that has a web platform.
"Imagine a world where you could create what you wanted and have it within seven days – that's powerful," he adds.
"Everyone has a lot of stock data, but nobody had the ability to understand how a consumer was really thinking if they were given the power to make changes they wanted to. So now we have all this data from all over the world where we can tell what people want. So it not only helped the custom side but helped with making decisions on stock and the bulk manufacturing side too."