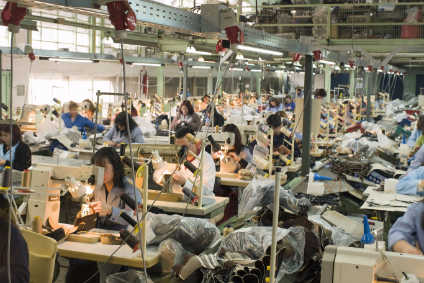 Several major Australian brands have been called out for failing to protect garment workers in their Bangladesh and Vietnam supply chains, with Oxfam Australia alleging many are going hungry due to low wages.
The report, 'Made in Poverty: The true price of fashion', includes interviews with hundreds of workers in factories in Bangladesh and Vietnam that supply clothes to brands such as Kmart, Target Corp, and Big W as well as apparel brand Cotton On. Of the 470 workers surveyed, the report reveals 74% in Vietnam and none in Bangladesh could make ends meet.
Oxfam says the Australian fashion industry was worth AU$23.5bn (US$16.8bn) in 2018 yet factory workers are being paid wages as low as AU$0.51 an hour.
Of the findings, the research revealed nine out of ten workers interviewed in Bangladesh cannot afford enough food for themselves and their families, forcing them to regularly skip meals and eat inadequately, or go into debt. 72% of the Bangladeshi workers interviewed and 53% of the Vietnamese workers interviewed cannot afford medical treatment when they get sick or injured. While 76% of workers interviewed in Bangladesh factories have no running water inside their home, and more than 40% in Vietnam reported worrying about having to use well or rainwater.
In Bangladesh, one in three workers interviewed is separated from their children, with nearly 80% of those cases due to a lack of adequate income.
"The investigation has uncovered the widespread payment of poverty wages and the impact this is having on the lives of the workers, mainly women, making the clothes Australians love to wear," says Oxfam Australia chief executive Dr Helen Szoke.
"Women who are unable to get treatment when they fall sick, workers who cannot afford to send their children to school, families that cannot make their pay stretch to put enough food on the table, people sleeping on floors in overcrowded houses, spiralling debts, mothers separated from their children – these are just some of the common realities of the failure of big brands to ensure the payment of living wages."
Big W responded to the report's allegations via its Facebook page, noting the company recognises the importance of respecting the human rights of its team members and the workers in its supply chain.
"This past July, we re-launched our Responsible Sourcing Program with the aim to improve oversight of the social and labour conditions in our supply chain," it added. "Our new standards include supplier guidance on Living Wage and supporting processes such as freedom of association and access to effective grievance mechanisms for workers. Like Oxfam, we see the opportunity to improve the livelihoods of those people working in factories across the world.
"As part of this journey, we have been active members of the Bangladesh Accord, an independent agreement designed to make all garment factories in Bangladesh safe workplaces. We will continue to support the Accord in its transition phase. As such, and with the transparency that this entails, we have also published the list of factories we work with on our website. While we have made progress, there is still more work to do.
"At Big W, we are committed to continuing to work towards improving the living conditions of people within our supply chain, a key goal of Woolworths' 2020 Commitments."
Kmart also responded via its Facebook page, noting it believes everyone touched by its business should be treated fairly and with respect, whether "they shop with us, work for us, or work for a supplier in a factory making our products".
The retailer added: "In some of the countries from which we source our products, factory workers do not work in conditions and under a pay structure that is fair or meets their basic needs. This is a complicated topic that requires many different parties working together to address. For example, simply paying higher prices or imparting stricter standards will not result in factory workers receiving a higher wage or working under better conditions. The only way to do this is by working in partnership with other retailers, trade unions, suppliers, workers and national governments.
"This is why in 2015 we joined other global retailers and brands to collectively work with unions and workers through the Action, Collaboration, Transformation (ACT) initiative, which aims to implement a sustainable solution to achieving a living wage. By December 2023, we will complete implementation of the ACT Global Purchasing Practice Commitments across our global supply chain. These have been developed after thorough consultation with unions, suppliers, and businesses.
"This is a complex issue but we believe strongly that by working collaboratively we can achieve a positive outcome."
Meanwhile, Target said it understands the importance of the issue, which is why it is working closely with key partners to implement a "sustainable solution".
While Cotton On said workers' rights is a matter it takes very seriously.
"As a proud member of Action Collaboration Transformation (ACT), the group is committed to working collaboratively with fellow signatories towards the establishment of industry-wide collective bargaining to create positive change to the way wages and working conditions are set. This ground-breaking agreement between retailers and trade unions exists to transform the garment and textile industry with a goal of achieving living wages for all workers. This will directly support the group's own journey toward paying fair wages."