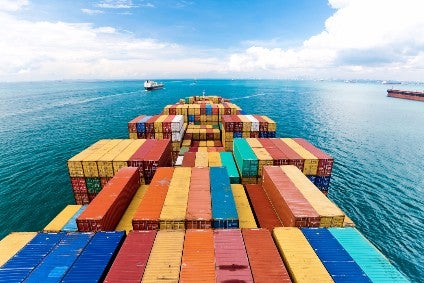 While the annual Asian factory shutdowns for Lunar New Year will be to blame for a slight dip in imports at major US retail container ports this month, the National Retail Federation (NRF) has warned President Donald Trump's new tariffs on steel and aluminium could eventually have an impact on ports and, ultimately contribute to a trade war.
According to the latest Global Port Tracker report released by the NRF and Hackett Associates, the total for 2017 came in at 20.5m Twenty-Foot Equivalent Units (TEU), topping last year's previous record of 19.1m TEU by 7.6%.
2017 set an all-time monthly record of 1.8m TEU in August and included five of only seven months when imports have hit 1.7m TEU or higher.
For the first half of 2018, imports are expected to grow a healthy 4.1% over the same period of 2017 to reach a total of 10.2m TEU.
"With steel and aluminium tariffs already in place, new tariffs on goods from China being threatened and the ongoing threat of NAFTA withdrawal, we could very quickly have a trade war on our hands," says NRF vice president for supply chain and customs policy Jonathan Gold. "The immediate impact would be higher prices for American consumers that would throw away the gains of tax reform and put a roadblock in front of economic growth. But in the long term we could see a loss in cargo volume and all the jobs that depend on it, from dockworkers on down through the supply chain."
Hackett Associates founder Ben Hackett, adds a potential trade war would have a negative impact on cargo growth to the detriment of both the consumer and US industry.
"The likelihood of an increase in exports evaporates as well, killing off any chance for an improvement in the balance of trade," he adds.
The US clothing industry was left reeling last week after President Trump went ahead with his threat to impose tariffs on steel and aluminium imports, a move the retail sector called a "self inflicted wound on the nation's economy".
On Thursday (8 March), the White House said the tariffs of 25% on imported steel and 10% on aluminium will come into effect in 15 days. The President had said previously the import taxes would protect US national security.
Cargo volume does not correlate directly with sales because only the number of containers is counted, not the value of the cargo inside, but nonetheless provides a barometer of retailers' expectations.
Ports covered by Global Port Tracker handled 1.73m Twenty-Foot Equivalent Units in January, the latest month for which after-the-fact numbers are available. That was up 0.2% from December and up 1.8% from a year ago. A TEU is one 20-foot-long cargo container or its equivalent.
February was estimated at 1.66m TEU, up 13.7% year-over-year, while March is forecast at 1.53m TEU, down 1.8% from last year.
Looking further ahead, April is forecast at 1.7m TEU, up 4.7%; May at 1.79m TEU, up 2.5%; June at 1.8m TEU, up 4.7%; and July at 1.88m TEU, up 4%. The February and March numbers are skewed by variations in when Lunar New Year falls each year and Asian factories close for periods ranging from a week to a month.
The closures, which are in celebration of the New Year that began on 16 February, poses massive problems for many small to mid-sized retailers and importers who must ensure that their spring season merchandise is produced, paid for and shipped prior to the shutdown.
The import projection comes after NRF forecast that 2018 retail sales will grow between 3.8% and 4.4% over 2017's US$3.53trn.