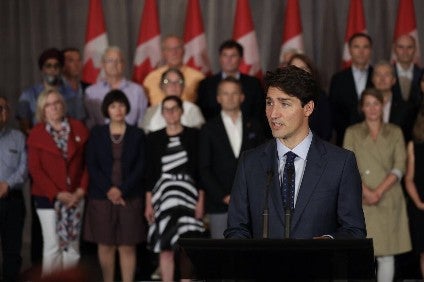 Canadian Prime Minister Justin Trudeau has moved to quell concerns a clause in the new US-Mexico-Canada trade pact hinders the country's freedom to trade with other countries such as China.
The US Mexico Canada Agreement (USMCA), signed earlier this week, and a replacement for the North American Free Trade Agreement (NAFTA), stipulates signatories must notify the other partners in the agreement if they plan to negotiate a free-trade deal with a "non-market country".
If the clause is not adhered to, the other two have the right to withdraw from the USMCA with six months notice.
It is widely understood a "non-market country" refers to China.
The US and China, in particular, have been at loggerheads in recent months, with both imposing a series of tariffs on each other's goods as a trade spat between them continues to escalate.
The most recent retaliatory move saw China slap a 5-10% tariff on US$60bn worth of goods from the US.
It followed US President Trump's decision to impose a 10% tariff on an additional US$200bn worth of goods from China.
But Canadian PM Justin Trudeau insists despite the clause in the USMCA agreement, Canada would continue to look at opportunities to strengthen its trade relationship with China.
From January to March 2018, imports from China to Canada grew to CAD16.8bn (US$13.1bn) from $15.8bn a year earlier according to the Asia Pacific Foundation of Canada.
In 2017 woven clothing and apparel articles made up 3.24% of total imports and knitted and crocheted apparel was 3.43%.
"Canada is a trading nation, and we understand how important it is to engage, to exchange, to grow our economies, to benefit both ourselves and the countries we partner with," asserts Trudeau.
"Obviously, China is a significant growing player in global trade and as always we will look for ways to engage deeper and improve our trading relationship with them in ways that are beneficial to both Canadians and to everyone."