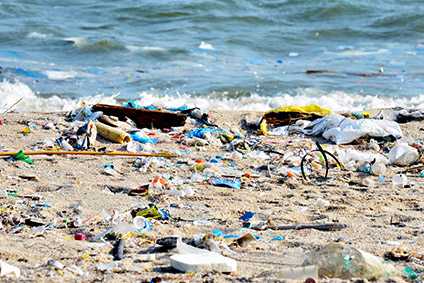 An alliance of global companies from the plastics and consumer goods value chain today (16 January) launched a new organisation to advance solutions to eliminate plastic waste in the environment, especially in the ocean.
The cross-value chain Alliance to End Plastic Waste (AEPW), currently made up of nearly 30 member companies, has committed more than US$1bn with the goal of investing $1.5bn over the next five years to help end plastic waste in the environment.
The Alliance will develop and bring to scale solutions that will minimise and manage plastic waste and promote solutions for used plastics by helping to enable a circular economy. The Alliance membership represents global companies and located throughout North and South America, Europe, Asia, Southeast Asia, Africa, and the Middle East.
The not-for-profit organisation includes companies from across the global plastics and consumer goods value chain, including chemical and plastic manufacturers, consumer goods companies, retailers, converters, and waste management companies, along with a strategic partnership with the World Business Council for Sustainable Development.
"Keeping our environment free of waste is important to the future of Dow and our industry, but more importantly, it's important to the future of our planet," says Jim Fitterling, CEO of Dow, one of the founding members. "This initiative brings together companies, governments, NGOs and consumers to accelerate efforts to drive innovation, provide much-needed resources, and take decisive action to put an end to plastic waste in the environment."
In the months ahead, the Alliance will make additional investments and drive progress in four key areas:
Infrastructure development to collect and manage waste and increase recycling;
Innovation to advance and scale new technologies that make recycling and recovering plastics easier and create value from all post-use plastics;
Education and engagement of governments, businesses, and communities to mobilise action; and,
Clean up of concentrated areas of plastic waste already in the environment, particularly the major conduits of waste, like rivers, that carry land-based plastic waste to the sea.
"Solving this critical world challenge will require a diverse set of solutions developed by an equally diverse group of stakeholders," adds Fitterling. "The Alliance to End Plastic Waste brings together some of the most innovative minds in the world, allowing us to explore, develop and implement those solutions."
Founding members of the Alliance also include BASF, Clariant, Covestro and Reliance Industries.