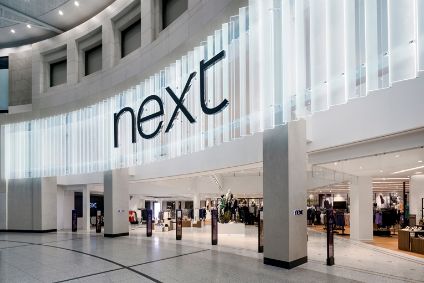 UK clothing and homeware retailer Next Plc saw its profits halve last year but has upped its earnings forecast thanks to strong online sales.
In a trading update for the year ended 30 January, Next delivered a net profit of GBP290.6m (US$400.4m), a decline of 51% on the year prior. Pre-tax profits dropped to GBP342m from GBP729m, in-line with guidance issued earlier this year.
Total group sales dropped by less than 17% to GBP3.6bn, while full price sales were down 15% on last year.
Brand sales declined 16% to GBP3.57bn, while retail sales slumped 48% to GBP954.5m. Online sales, meanwhile, were up 10% to GBP2.37bn.
Next said the product areas that did well have much lower returns rates than those that underperformed.
The retailer also said it has been very fortunate, with the business well-placed to cope with the pandemic. It attributes this to online scale, product diversity, balance sheet, and retail parks.
"If we had been told twelve months ago that our shops were going to be shut for 20 weeks, we could not have imagined the group delivering the sales or profit we achieved last year," Next said.
"We were, in many ways, fortunate that the business was so well placed to ride out the swings in consumer behaviour caused by the pandemic. But the building of a diverse, profitable, and well-financed business, along with the development of new online routes to market, has not been accidental. It has come as a result of a conscious and consistent effort to adapt and change the business, and to maximise the opportunities presented by our online infrastructure, product skills, supplier base, and partnerships."
The retailer is expecting the shift in consumer behaviour towards online sales to continue for some time. In the first eight weeks of the year have been stronger than expected – up more than 60% on two years ago.
This overachievement, plus the expected transfer of sales from retail during the additional two weeks of lockdown, are expected to add GBP30m of profit. Online is now expected to make up 71% of the company's revenues this year.
As such, Next is raising its central profit guidance from GBP670m to GBP700m.
"Our new central guidance is for the company to deliver sales in line with those of 2019/20 (two years ago) and profit before tax of GBP700m, down GBP29m on two years ago. That performance, on the surface, looks unremarkable, but it involves managing the loss of over half-a-billion of sales from our Retail stores and building that turnover back across our various Online businesses," Next said.
The retailer is expecting that store sales will decline, on a like-for-like basis, by 20%, leaving its store network "marginally profitable".
Pragmatic approach
Amy Higginbotham, retail analyst at GlobalData, believes Next has taken a logical and pragmatic approach to Covid-19, and has been much more transparent about the impact the pandemic has had on the business than most other retailers.
"It performed well during FY2020/21 considering that stores were closed for 20 weeks of the year, largely thanks to its strength online. Having raised its profit guidance various times throughout the year, Next achieved a profit before tax of GBP342m on a 53-week basis (in line with guidance given in January).
"Next successfully transferred shoppers to its website while stores were closed during periods of lockdown (though there were some initial teething problems in March and April last year). This was particularly true in H2, when online sales grew GBP364m, almost entirely offsetting the GBP368m decline in retail sales. Next accelerated investment in online, spending GBP121m on warehousing and systems during the year, which will have helped it increase capacity and cope with elevated demand. Its Next Unlimited delivery saver scheme will also have driven brand loyalty as spend shifted online.
"Next continues to boost relevance by partnering with new brands including Childsplay Clothing, Victoria's Secret, and Reiss through its Total Platform service. This has helped Next broaden its appeal, with the number of active customers in January 2021 up considerably across all age groups compared to last year; growth was particularly high among the under 30s (+40%) and over 60s (+49%).
"Next's broad product range has also served it well; home, childrenswear, sportswear and loungewear categories (which accounted for 58% of sales gong into the first lockdown) outperformed, protecting total sales from more severe decline amid falling demand for formal and occasionwear. These stronger-performing categories also have lower return rates online, which helped Next boost profitability in this channel; online profit margin rose 1.3ppts to 19.9%."
Melissa Minkow, retail industry lead at CI&T, believes the results confirm Next is poised for growth, thanks in large part to how intently it has become on investing in its e-commerce strategy.
"Orienting towards a more digital marketplace structure is extremely aligned with the retail times to ensure consumer needs and shopping behaviours are accommodated.
"There's definitely room to update the current site from an experiential perspective, so the fact that growth during the pandemic was promising, combined with the fact that they only plan to get stronger, leads me to believe that they'll continue to see desirable numbers moving forward."