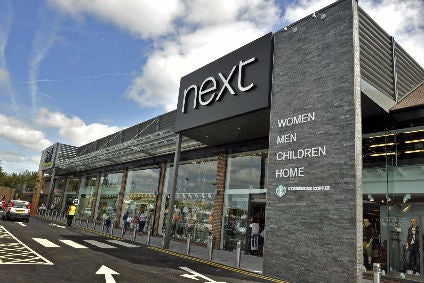 UK clothing retailer Next has saved around GBP290m (US$360m) on stock purchases, after cancelling orders it "no longer needs" because of store and warehouse closures due to try to halt the spread of Covid-19, and moving other stock into future seasons.
The retail selling value (RSV) of cancelled stock is GBP450m, the company said in a trading update today (29 April), while reduced future buy is GBP510m. Total reduction in stock at retail selling value versus base case is GBP960m. Taking out the figure of supplier compensation and Next Sourcing commission leaves a GBP290m cost saving.
"We have endeavoured to be fair to our suppliers. In a letter to our suppliers in late March 2020, Next committed to honour and pay them in full, on normal payment terms, for orders that were due to leave supplier factories up to and including 10 April 2020. Orders due to leave supplier factories after this date that are no longer required, have been cancelled and compensation payments made towards the raw materials that suppliers have acquired.
"We are still selecting ranges and continue to order stock for later in the year. There is no point in not buying coats because we have too many T-shirts," the retailer says.
In addition to cancelling stock, Next has identified GBP330m (RSV) of spring/summer 2020 stock that can be carried forward into spring/summer 2021. This will represent around 15% of the total spring/summer 2021 buy – and is generally basic products such as summer T-shirts and chinos.
Next also revealed that from 26 January to 25 April, sales fell 52% in its retail arm and 32% in its online division.
The company's stores have been closed since 23 March, and the decision to close its UK warehouses and distribution networks was taken on 26 March.
The retailer also expects its clearance sales in January and July to decline by 11% on last year due to the balance of stock to clear, which is expected to be up by 15% and 45% on last year.
"In each scenario, we have assumed the loss of GBP50m of clearance sales," Next says.
Other steps taken to improve its financial position include identifying areas of the business where it can make cost savings such as in marketing, distribution, and store occupancy. It has also suspended dividend payments for August and possibly January. In addition, all main board directors have agreed to waive 20% of their salaries and fees, and the annual bonus for executive directors has also been cancelled for the 20/21 financial year.
"It is hard to think of a time when the outlook for sales and profit has been more difficult to predict. A pandemic of this scale has simply not been experienced by a modern global economy. No amount of information about the past can accurately guide us in our deliberations on the future. Our job is not to guess exactly how things will pan out but to prepare the company for all outcomes that seem reasonably possible," Next says.
"So the scenarios we set out are just that, scenarios, not guidance, not a forecast. Their purpose is to demonstrate how the business is likely to perform under different levels of stress, without seeking to predict which outcome is most likely.
"Next's historic maintenance of healthy margins and high returns on capital have built a strong base from which to weather the storm: even in our worst case scenario of sales down -40% the group still is likely to deliver positive EBITDA and reduce year-end financial net debt.
"Our focus remains clear: Maintain the financial stability of the group through saving costs and generating cash; adapt to safely trading through the pandemic; continue to invest in the products, systems, infrastructure and new business ideas that will enable us to take the business forward once the storm has passed."
Click here to find out what industry experts had to say about the announcement.