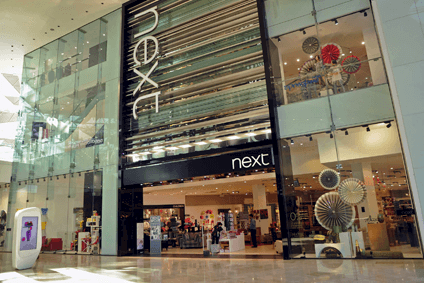 Next revealed better-than-expected annual profits for the year ending 2023, up nearly 6%, while full price sales grew almost 7% on last year. The retailer said it was maintaining its full-year 2023 guidance, however, which is forecasting a drop in both sales and earnings.
The retailer, which has been increasing prices to offset rising costs, said price inflation is expected to be "more benign" than previously though. It is forecasting increases of 7% in spring/summer and 3% in autumn/winter. This compares to previous rises of 8% and 6% respectively.
Snapshot of Next's full-year results:
In the midst of a consumer squeeze, trading sales were up +8.4% on last year. (Excluding the weeks that were flattered by lockdown in the previous year, trading sales were up +4.8%).
Full price sales were up 6.9% versus last year.
Retail sales soared 30% to GBP1.86bn, while online sales were down 2% to GBP3bn.
Profit before tax of GBP870m, up 5.7% versus 2021/22 and up 16.3% against 2019/20. This is GBP10m higher than previous guidance of GBP860m.
Next is cautious about the year ahead (to January 2024), forecasting sales to be down 1.5% and profit before tax down 8.7%.
Chairman, Michael Roney, said: "We have prepared (and budgeted) for a difficult year. We are very clear on our priorities. If we continue to improve our product ranges, relentlessly manage our costs and upgrade our customer service, whilst also developing new business opportunities; we can lay the foundations for an exceptionally strong business and still deliver healthy profits, cash flow and dividends."
Next growth drivers
The retailer set out its priorities for the year ahead, including the full implementation of two new websites for JoJo Maman Bébé and Made.com, the development of the Joules' website, improvement of its product ranges and its online service levels, and managing costs and profitability.
"This year, the opportunity for growth is naturally limited by market conditions, so we will focus on improving the basics of our business whilst taking the opportunity to strengthen the foundations of the business for future years," Next said in its trading update.
For the year ahead, Next is budgeting for full-price sales to be down 1.5% versus last year and profit before tax to be GBP795m.
"The year ahead looks like it will be challenging: the combination of inflation in our cost base and top line sales which are likely to edge backwards is uncomfortable," Next said. "But the company is well prepared. Looking through next year to the longer term our prospects feel more positive than they have done for some time. The burdens of the structural change to our industry appear to have eased."
Solid full-year performance
Emily Salter, senior retail analyst at JustStyle's parent company GlobalData, said: "Retail spend in the UK has remained surprisingly resilient so far despite indicators of consumer confidence remaining highly negative and as inflation unexpectedly rose again in February, boosted by higher food prices.
"Next has benefitted from this continued propensity to spend, with its broad offer catering to a wide range of consumers, including those trading down to more value-focused brands or focusing on more essential purchases, and to shoppers who can afford to trade up to more premium and aspirational brands."
Charlie Huggins, manager of the Quality Shares Portfolio at Wealth Club, said Next delivered a "solid performance", reinforcing its reputation as one of the best run UK retailers.
"Many other retailers have struggled in the current environment, but Next's proposition is clearly resonating with the UK consumer. The removal of pandemic restrictions has certainly helped, leading to a strong recovery in store sales. But this shouldn't take away from Next's excellent operational execution.
"Looking to the year ahead, the environment is set to get tougher. Next's sales are expected to fall modestly, with profits down close to 10%, as cost pressures take their toll."