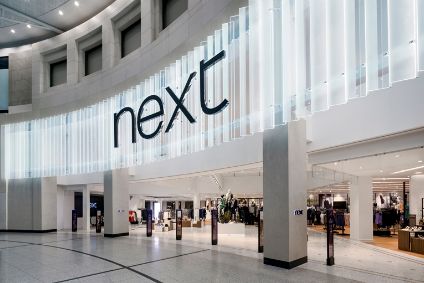 UK clothing and homeware retailer Next Plc has upped its central profit guidance for the year after reporting first-quarter sales that beat guidance.
In a trading update for the 13 weeks to 1 May, Next revealed total full price sales down 1.5% on two years ago, beating central guidance of a 10% drop.
UK full price sales were down 9% to a negative GBP66m (US$91.8m), while full price product sales dropped 0.6% to a negative GBP5m, despite a ten-week closure of Next's retail stores.
Childrenswear and UK label third-party brands both recorded positive sales growth of 2% and 67%, respectively, to GBP3m and GBP64m. Overseas online sales, meanwhile, also soared 67% to GBP77m.
In the last three weeks Next said its sales have been "exceptionally strong" and, versus two years ago, total full price sales were up 19%. In that period, full price sales in like-for-like retail stores were up 2% and online sales were up 52%.
Next has increased its central guidance for full-year profit before tax by GBP20m to GBP720m. This accounts for a GBP75m sales over-achievement in the first quarter. The retailer, however, has not raised its sales guidance for the rest of the year, which remains at 3% against two years ago.
Next's sales update covering the first 26 weeks of the year to 31 July 2021, is scheduled for 4 August 2021.
Resilient lockdown results
Jonathan Rock, associate retail analyst at GlobalData, says Next's first-quarter results bode well for the retailer's post-pandemic performance.
"Next outperformed its Q1 sales forecast by GBP75m, driven by a 19% increase in total full price sales in the last three weeks of the period after its stores reopened. Consequently, it has raised its central guidance for full year profit before tax by GBP20m to GBP720m – now down just 1.2% on FY 2019/20 profit.
"Sales in the three weeks following the easing of restrictions on April 12th saw like-for-like sales in retail stores grow 2% and online sales rise 52% compared to Q1 2019. The maintenance of strong online growth reflects well on Next as online customers didn't simply transfer back to in-store competitors. The longevity of this recovery in offline sales remains to be seen, with Next themselves noting that pent up demand in those three weeks is "very unlikely to be indicative of demand for the rest of the year". Despite this, the strong online performance following restrictions easing – which grew further in the last week of the period – is reason enough to be optimistic, indicating new online-focused shoppers have been acquired over lockdown.
"The retail giant noted that sales were not evenly transferred to online in Q1 sector-by-sector, with UK Next-branded adult clothing sales dropping -46% (-GBP150m) as "very few" sales in this category were recovered online. Balancing this was a 2% growth in UK Next-branded Childrenswear (+GBP3m) and 12% growth in Home sales (+GBP17m), plus an exceptional 67% growth in both UK Label third-party brands (+GBP64m) and overseas online sales (+GBP77m).
"The notable performance from third-party brands reflects well on previous acquisitions such as Victoria's Secret, Reiss, and Laura Ashley, which have allowed Next to bolster its appeal to a variety of demographics. Its recent partnership with Homebase, adding gardening centres to six Next stores, will only continue to expand Next's influence in another market it is less prominent in.
"Growth in online sales overseas (GBP77m) was more than quadruple the -100% (-GBP16m) loss in overseas retail sales, helping mitigate the 9% decrease in total UK full price sales for the period. Next should capitalise on the exceptional resilience to lockdown-enforced store closures abroad this online growth abroad provides. Its strong online presence will protect it from the possibility of longer lockdowns across Europe, which can be wielded to steal market share from continental store-based rivals with less developed online offers.
"Next's resilient performance in a quarter scarred by 10 weeks of lockdown left investors optimistic, with its share price rising 2.8% in early trading this morning."