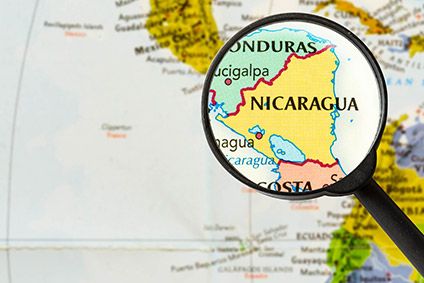 International garment buyers visiting Nicaragua on sourcing trips have been warned to take additional precautions because of the ongoing and escalating political unrest.
A security expert linked to the US Fashion Industry Association (USFIA) is advising buyers to liaise closely with local contacts about appropriate travel plans and potential factory closures, being aware that manufacturers may be wary of making public statements about the troubles to avoid upsetting the government.
The regime is under intense pressure, with political opponents seeking an end to the rule of President Daniel Ortega, who has been in power since 2007.
A crisis began in April with protests over his proposals to reduce pension benefits to ease budgetary pressures. Unrest has so far seen at least 322 people killed, thousands injured, scores of people arbitrarily detained and thousands fleeing the country.
Speaking to just-style, the USFIA sustainability advisor, UK-based BSI Supply Chain Services and Solutions, advised that widespread violent crime and robbery, cargo blockades, thefts and looting are ongoing.
BSI's Latin America risk advisor, Philippa Williams, says overseas travellers to Nicaragua should plan any sourcing trips carefully. Noting "serious challenges" at the country's borders, she told just-style: "Business continuity risks for those moving goods across the border are high."
She says Nicaragua minister of development, industry and trade officials estimate US$26.7m fewer goods were imported this May compared to the same month last year, according to data from the Central Bank of Nicaragua. This is due to persistent social unrest, limiting the availability of critical raw materials needed to make exportable finished products – "so this figure will reflect the challenging export market."
Some factories have decided to close and lay off staff until the violence dies down, she says, so buyers should check their sources remain unaffected before travelling and be aware that input shortages could inflate output prices in the short term. Trying to square this circle by offering cash deals is risky. "My advice is to keep a low profile, be aware of your surroundings and it is never a good idea to carry large sums of cash," she adds.
Security contingencies
Williams urges travellers to have security contingencies in place for any visits after carrying out a "pre-visit risk assessment," including determining routes with trusted local drivers, checking if they have been subject to blockades; having a plan on how to leave at short notice; and liaising with contacts about any localised flashpoint protests. This is all critical, she said, especially if buyers are travelling from factory site to factory site.
"Social media tends to be the best place to get up-to-date information," she told just-style. "Using intelligence effectively to determine the local environment and the risk exposure of the traveller is critical, as poor planning can get you into difficult situations."
A key concern is that highly charged political protests can transform at short notice and a peaceful march can become violent all too quickly. As well as keeping in close touch with Nicaraguan contacts "being aware of the politicised situation is important" and buyers should ensure they "are sensitive to this in conversations with sources, suppliers and government agencies."
Many companies are avoiding public statements on the situation, Williams says, because it is highly politicised: if they condemn President Ortega and he stays in power for next few years, they could be targeted. If they condemn the opposition protesters, the same could happen, if they win and seize power.
In July, apparel brands and retailers including Adidas, Gap Inc, Under Armour, Patagonia, New Balance, and Nike expressed their concerns over the political and social crisis in Nicaragua – and its impact on their sourcing operations.
According to an overview of Nicaragua on the new re:source by just-style online strategic planning tool, the country has what is perhaps the most competitive garment industry in the Caribbean/Central American region – and has fully exploited the trade benefits offered by the DR-CAFTA trade agreement with the US. However, social unrest and political instability are among the biggest threats that could negatively impact the local textile and apparel industry.
See also: Nicaragua crisis could hit Central America sourcing