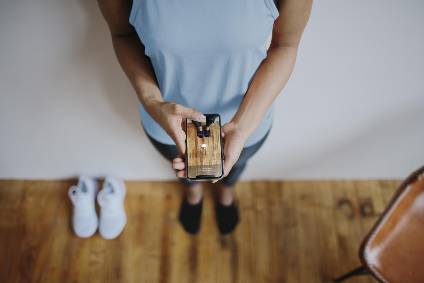 US sports footwear and apparel brand Nike is harnessing the power of artificial intelligence to launch a digital shoe measurement tool.
Nike Fit is a new scanning technology that uses a proprietary combination of computer vision, data science, machine learning, artificial intelligence and recommendation algorithms. By measuring the full shape of both feet it is able to recommend the "perfect fit" for each Nike shoe style.
Nike says that in North America alone, 60% of people at any given time are walking around in the wrong size shoe and half a million people complain about purchasing the wrong shoe size a year. The company adds that length and width do not provide nearly enough data to get a shoe to fit comfortably.
Nike Fit uses a smartphone's camera to scan the feet, collecting 13 data points mapping foot morphology for both feet in seconds. The scan can then be stored on the NikePlus member profile and used for future shopping online and instore. A guest mode can also be entered allowing the user to scan feet of family and friends. A "best fit for you" recommendation is then offered based on the particular footwear selection.
"Nike Fit is a transformative solution and an industry first – using digital technology to solve for massive customer friction," the company explains.
"In the short term, Nike Fit will improve the way Nike designs, manufactures and sells shoes – product better tailored to match consumer needs. A more accurate fit can contribute to everything from less shipping and fewer returns to better performance."