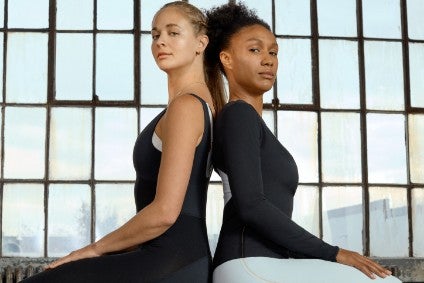 Sportswear giant Nike has developed a performance fabric it says offers nearly double the stretch and recovery of a fabric made from spandex.
Nike Infinalon is being used in the company's latest yoga collection, which launched yesterday (1 January). It is the result of more than two years of development, with Nike's aim to offer "movement without restriction."
"With the same amount of force applied, the stretch and recovery of Infinalon is nearly double that of a fabric made from spandex," Nike says. "Unlike stretch lockout in spandex, Infinalon provides a comfortable and consistent fit through a gentle but non-restrictive compression system that moves with you."
Nike Infinalon has a thinner – but stronger – and more durable opaque fabric, without sacrificing coverage. With this finer yarn woven into multiple layers, yogis receive a high-density material at a low weight, giving the clothing a breathable, lightweight feel.
The sportswear firm says Infinalon offers "a smooth surface and feel", and provides "sculpting, contouring and shaping without sacrificing comfort."
"[Infinalon] is designed to be inclusive, serving all genders and body types, from extra small to plus sizes," Nike says. "Thoughtful seam placement and minimal trims contribute to a zero-distraction apparel experience."
The collection includes leggings, pants, shorts and bodysuits, with additional items expected to be added on 1 April.