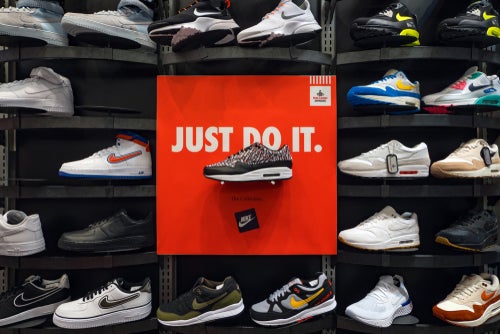 A new report by financial services and PR company, FinancePR.com, claims that Nike is the world's most valuable apparel firm with a valuation of $30.44bn storming ahead of it's biggest competitors Gucci, Louis Vuitton and Adidas. Nike's nearest rival Gucci reached second place in the same evaluation with a much lower valuation of $16bn, while both Louis Vuitton and Adidas came in behind with less than half of Nike's value, at $15bn and $14bn respectively.
Nike is named most valuable apparel brand of 2021 despite facing supply chain issues
Despite Covid-19 related supply chain issues across its marketplace last year, the results reveal that Nike has upped it's game, year on year, and managed a 1% increase in sales last quarter.
The data shows that one key component of Nike's success is its direct-to-consumer (DTC) channel, Nike Direct, which made 43.5% of Nike's total brand sales in Q2 FY2020/21.
The findings also highlight that customer loyalty is high with the brand. Even at the start of the pandemic, Nike managed to increase its sales from $39.1bn in 2019 to reach $44bn in 2020. The US remains the largest customer base for the sportswear company with it accounting for around 40% of all sales.
Nike enters into the metaverse
Footwear remains Nike's top seller, making $28bn in sales for the brand in 2021, however the company is keen to stay ahead of the trends that are most relevant for its core demographic. In December 2021, Nike ventured into the metaverse for the first time when it acquired virtual sneaker start-up RTFKT.
At the time of the announcement John Donahoe, president and CEO of Nike, Inc. said: "This acquisition is another step that accelerates Nike's digital transformation and allows us to serve athletes and creators at the intersection of sport, creativity, gaming and culture."
While, GlobalData associate apparel analyst, Darcey Jupp told Just Style exclusively: "As apparel brands are still trying to understand the breadth of possibilities the metaverse could bring to fashion, Nike is already establishing itself in this new market, and its competitors will fall behind if they fail to join them now."