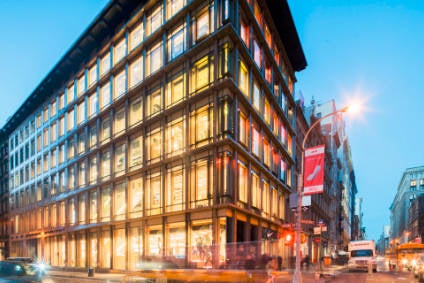 Shares in Nike Inc regained their upward trajectory this morning (22 December) after slipping 2.27% in after-hours trading as the US sporting goods giant reported a mixed second-quarter, extended its deal with online behemoth Amazon and outlined a new pilot with apparel subscription service Stitch Fix.
Net income in the three months to the end of November decreased 9% to US$767m from $842m a year earlier, as a decline in gross margin and higher selling and administrative expense more than offset revenue growth and a lower tax rate.
Gross margin declined 120 basis points to 43%, as higher average selling prices were more than offset by unfavourable changes in foreign currency exchange rates and, to a lesser extent, higher product costs per unit.
Total revenues increased 5% to $8.6bn from $8.2bn in the year-ago period, and was up 3% on a currency-neutral basis. Sales for the Nike brand reached $8.1bn, up 4% on a constant-currency basis driven by Middle East and Africa (EMEA), Greater China and Asia Pacific and Latin America (APLA), including growth in the sportswear and Nike basketball categories.
Sales for Converse meanwhile, were down 4% to $408m on a currency-neutral basis, as international growth was more than offset by declines in North America.
In the group's North America business, sales slipped 5% to $3.49bn, while EMEA sales grew 19% to $2.13bn. Greater China sales, meanwhile, were up 16% to $1.22bn, and Asia Pacific & Latin America sales increased by 6% to $1.27bn.
"This quarter, led by our Consumer Direct Offense, we accelerated international growth and built underlying momentum in our domestic business," said CEO Mark Parker. "For the back half of the fiscal year, Nike's innovation line-up is as strong as it's ever been and we'll continue to actively shape retail through new differentiated experiences."
The company's so-called Consumer Direct Offense is fuelled by the brand's 'Triple Double' strategy: 2X Innovation, 2X Speed and 2X Direct connections with consumers. In essence, the new alignment aims to allow Nike to better serve its consumers personally, at scale – or what the company calls "creating a local business, on a global scale."
FBR & Co analyst Susan Anderson, notes: "We like Nike's innovation pipeline, international runway, and long-term margin catalysts, but we remain on the sidelines and look for improved revenue growth (which will likely take time as these new products ramp), margin execution, and lower inventory growth."
Meanwhile, during the company's second-quarter earnings call yesterday (21 December), Parker said Nike will extend its pilot project with Amazon, which was confirmed in June and saw the brand agree to sell a limited assortment of apparel, footwear and accessory products on the retail giant's website.
"It's going well and we remain focused on learning and elevating the consumer experience," Parker told analysts.
He also revealed the sportswear giant is to run a similar pilot with Stitch Fix, the online personal styling service, in the spring in the US as part of a bid to "bring personalised women's product to their expansive audience".