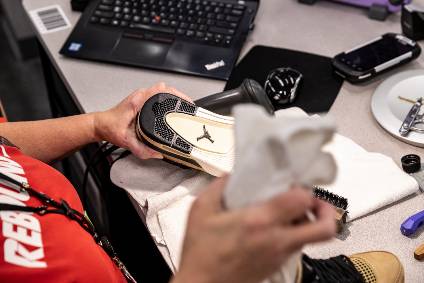 US sporting giant Nike Inc is rolling out a sneaker refurbishment scheme where it takes back footwear returned by shoppers, cleans them up, and puts them back on shelves at a lower price, as it looks at ways to reduce consumer waste.
Nike Refurbished extends the lifespan for three types of footwear: like new (maybe worn for a day or two before being returned), gently worn (a little longer), and cosmetically flawed (something like a small snag that happened in manufacturing).
To qualify for refurbishment the sneakers need to be returned to stores within 60 days of purchase.
Each pair is inspected and refurbished by hand, and then given a condition grade. The team uses a number of different products and tools to return shoes to as close to new condition as possible. Once the shoes land back in a Nike store, the price is based on footwear type and condition grade.
Returned product that doesn't make it to Nike Refurbished still has a chance at a second life, too. The company says it works closely with its community partner to donate gently worn footwear. Or, if it's truly at the end of wearable use, it will recycle it into its proprietary Nike Grind.
Up to 15 US stores will carry Nike refurbished footwear by the end of April, according to a report published by Reuters.
Earlier this week Nike was named as the "most valuable apparel brand" according to figures released by valuation and strategy consultancy Brand Finance. It is the seventh consecutive year it has retained the top spot out of 50 apparel brands.