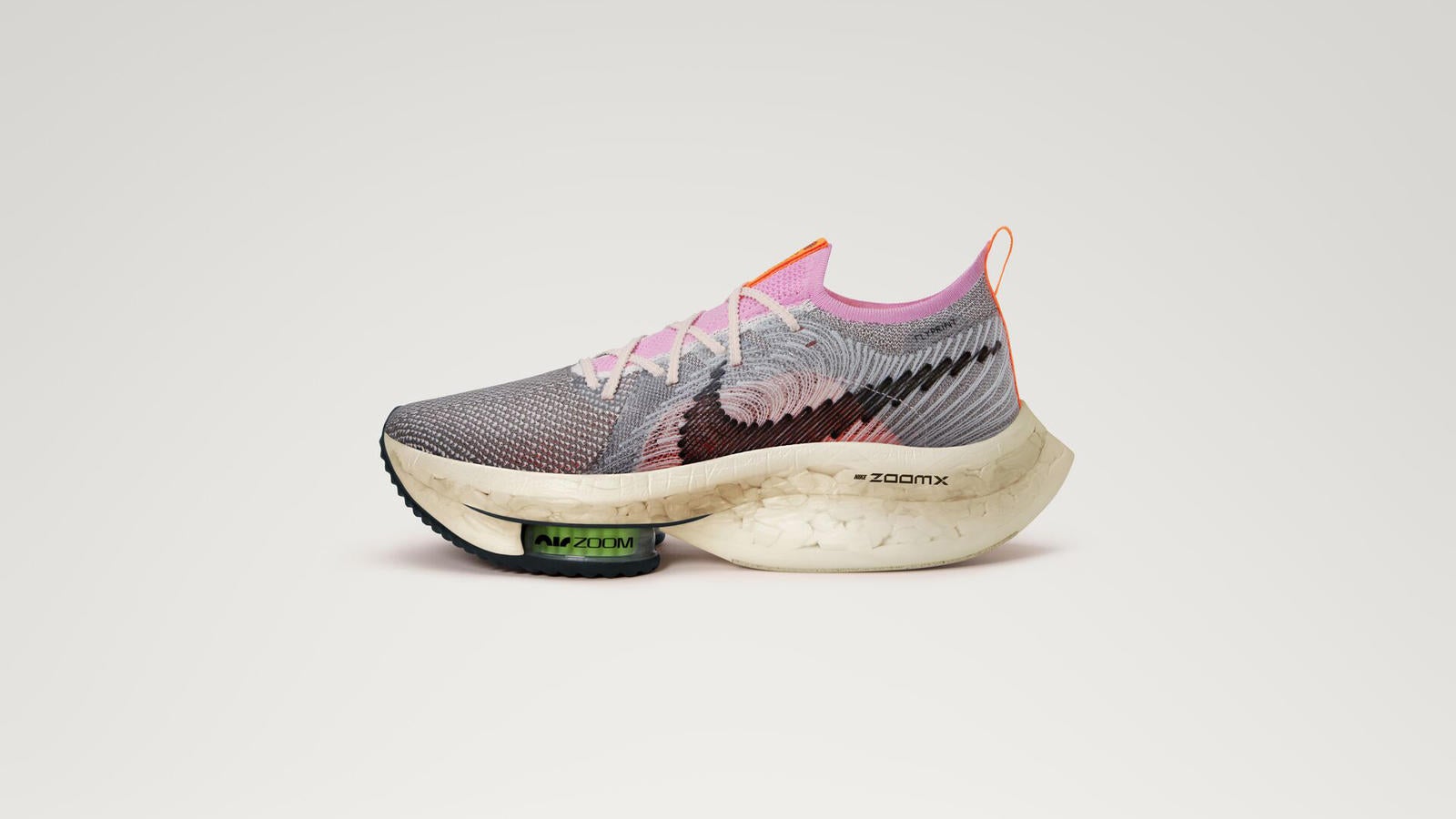 US sporting goods giant NIKE Inc has recreated its most elite performance shoe with circular design principles in a move that has led to its most sustainably-minded performance shoe to date.
Following Nike Basketball's Cosmic Unity, Nike Running designers were driven by a core belief within the Move to Zero initiative — Nike's journey toward zero carbon and zero waste — that a product that makes the world better can also make an athlete better. Cosmic Unity set the bar with 25% total recycled content by weight; the Alphafly Next Nature advanced it by reaching at least 50% total recycled content by weight, making it Nike's boldest move yet in merging sustainability and performance.
"We don't want to be about making shiny objects — we wanted to set our concept car as the intent for how we think about performance and sustainability," says Rachel Bull, senior footwear product director for Nike Running. "Putting a sustainable focus on our fastest marathon shoe also means we need all hands on deck for it to work, from our teams in design to material sourcing to manufacturing."
The design of the AlphaFly Next Nature arrives at new answers by considering new questions: What are creative ways to select different materials or processes for the shoe's performance elements? Can leftover or recycled versions of those pinnacle features be made while maintaining their elite properties?
Those kinds of questions required fluid conversation between engineers, developers, and manufacturers to create a shoe that performed in real life, Nike says, adding that work translated into hitting meaningful numbers in sustainability for some of the shoe's most important performance elements.
One example is the Nike ZoomX midsole, which was made with at least 70% recycled materials by weight. Bull attributes a big part of the "magic" of Nike racing shoes to the ZoomX foam. If any of it is going to waste, she says, it's a huge loss for the people who would potentially wear those shoes on race day. One solution: Put the leftover recycled foam from the midsole back into the sock liner.
This use-everything strategy got the teams thinking across disciplines and considering how other parts of the shoe could utilise waste. For example, the forefoot Zoom Air pods in the Nike Running racing line naturally consist of a high percentage of recycled content. The Alphafly Next Nature levelled this concept up and used leftover waste from those Zoom Air pods in the 3D-printing process that creates the textile for the hybrid Nike Flyprint and Nike Flyknit upper.
Created inside the NEXT% system, the original Alphafly NEXT% is the summation of many components working together. The design principles guiding Move to Zero are no different; every shoe fits within a larger pursuit of progress, as the insights derived from one shoe guide the next shoe forward in reducing its impact on the planet.
According to Bull, the Alphafly Next Nature offers another jumping-off point, and a unique opportunity for Nike to continue scaling its sustainability efforts across its running line.
"The exciting thing about pushing performance and sustainability forward with the Alphafly Next Nature is that we know if we can do it with our most pinnacle performance product, then so much is validated to bring that technology into the rest of the line."
Last month, Nike announced plans to explore the use of a carbon-negative biomaterial in a variety of applications as part of its work to reduce its carbon footprint.