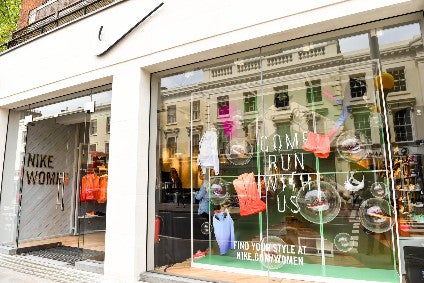 US sporting goods giant Nike has unveiled a new Circular Design Workbook to provide designers and product creators across the apparel industry with a common language for circularity.
Announced at this week's tenth Copenhagen Fashion Summit, Circularity: Guiding the Future of Design has been created in collaboration with Central Saint Martins, University of the Arts London, and with inspiration from Global Fashion Agenda.
"We have an obligation to consider the complete design solution, inclusive of how we source it, make it, use it, return it, and, ultimately, how we reimagine it," explains John Hoke, chief design officer at Nike.
"Design has the opportunity to take on a powerful role in making the world a better place," Hoke continues. "Circularity puts us on a journey that focuses on achieving progress hour by hour, day by day, week by week, year by year. By focusing on progress and not perfection and by making better choices, we embrace the chance to reconsider our craft in hope that it forms a groundswell of change."
One example of sustainable design at Nike is re-thinking how to improve the material palette – with a platform like Flyleather creating a lower-impact and more-durable alternatives to old standards.
The sportswear giant's new workbook shares ten key principles:
Material choices – Selecting low impact materials that use pre- and post-consumer recycled feedstock.
Cyclability – Designing with the end in mind; thinking throuh how a product will be recycled at end of use.
Waste avoidance – Minimising or eliminating waste in the product creation process.
Disassembly – Products that can easily be taken apart; recognising the value of each component.
Green chemistry – Chemical products and processes that reduce or eliminate the use of hazardous substances.
Refurbishment – Prolonging the use of a product through repair of component parts or materials.
Versatility – Products that easily adapt to growth, style, trend, gender, activity, and purpose.
Durability – Products made stronger by method of make and durable material choices.
Circular packaging – Purposeful packaging, made of materials that can be repurposed, recycled or biodegrade.
New models – Establishing new service and business models to extend product life cycle.
"These principles are starting points from which to tear down norms and reconsider the process of craft and design," Nike says. "The hope is that the workbook helps to inspire considered choices that will shift the world forward."
The sportswear giant earlier this week also revealed it is harnessing the power of artificial intelligence to launch a digital shoe measurement tool.