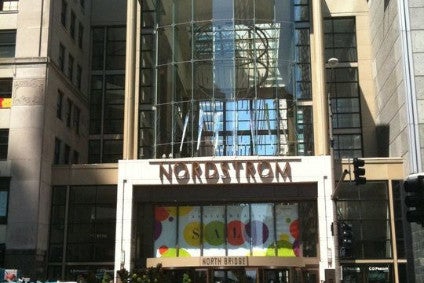 Upscale US department store operator Nordstrom is to shutter 16 full-line stores amid a restructure designed to better position the business as it navigates the Covid-19 pandemic.
The retailer currently operates 378 stores in 40 states, including 116 full-line stores in the United States, Canada, and Puerto Rico, and will incur non-cash impairment charges associated with the closures.
It has also outlined a restructuring of its regions, support roles and corporate organisation for "greater speed and flexibility", which it expects to result in expense savings of about $150m, or 30% of its plans for net cash reductions of more than $500m in operating expenses, capital expenditures and working capital.
Despite the impending closures, Nordstorm said "stores continue to be a core part of the business". As with many other retailers, Nordstrom's stores have been temporarily closed since 17 March amid a nationwide lockdown to stem the spread of the coronavirus.
The company plans to reopen its locations in a phased, market-by-market approach where allowed by local authorities and is shifting its anniversary sale event from July into August.
It noted while stores are temporarily closed, it is generating "solid" online traffic and conversion and is clearing excess inventory through increased marketing and promotional efforts.
"We've been investing in our digital and physical capabilities to keep pace with rapidly changing customer expectations. The impact of Covid-19 is only accelerating the importance of these capabilities in serving customers," said CEO Erik Nordstrom. "More than ever, we need to work with flexibility and speed. Our market strategy helps with both, bringing inventory closer to where customers live and work, allowing us to use our stores as fulfillment centres to get products to customers faster, and connecting digital and physical experiences with services like curbside pickup and returns."
Neil Saunders, managing director of GlobalData Retail, notes closing 16 of its full-line stores – around 14% of the total store base – is a "significant move" by Nordstrom.
"However, in our view, it is not so much of a step back from physical retail as it is an optimisation of the store portfolio," he adds.
"We have long since stated that Nordstrom has too many department stores that are in sub-optimal locations. Since those shops were originally opened, the demographics in the trade areas and the competitive mix have changed for the worse. The result is that Nordstrom has been left exposed."
Saunders says a pruning of the estate was always on the cards, but notes the coronavirus crisis has hastened this move and persuaded Nordstrom to quickly get out of shops which have low profitability and poor prospects.
"This is a prudent move that will help the company preserve cash in the longer-term and focus its investments on the locations which provide a much better return on investment. This includes expansion in large cities and the development of a network of smaller Nordstrom Local stores.
"We believe that the strong uplift in digital sales over the past month or so has shown Nordstrom that it can transfer a high proportion of revenue online even when stores are closed. This makes the decision to shut underperforming outlets somewhat easier and moderates the potential reduction in revenue."
He adds although Nordstrom does not have any exposure to severely ailing malls, many of the closures will be in secondary markets where the loss will be felt by mall operators and other tenants. "It is a blow for malls already severely bruised by the crisis and slowdown in retail.
"Looking ahead, we don't believe Nordstrom will be the only player reviewing its store fleet. The coronavirus crisis does not, in any way, spell the end of physical retail. However, it will speed the pace at which underperforming retail space is removed from the market."