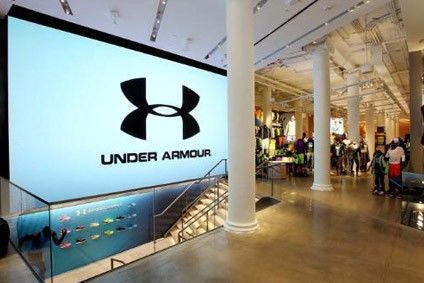 Although Under Armour's fourth-quarter is an improvement on its last, one analyst says the US sportswear brand is still showing signs of a company in difficulty, particularly in North America – the main source of the firm's woes.
For the period ended 31 December, the company reported a net loss of US$87.9m, compared to net income of $103.2m in the year-ago period. However, excluding both a one-time charge related to the US Tax Act, and the impact of its restructuring plan, adjusted net loss was $1m.
Net revenue meanwhile, was up 4.6% to $1.37bn from $1.31bn last year. Revenue to wholesale customers declined 1% to $733m, while direct-to-consumer sales climbed 11% to $575m, representing 42% of global revenue in the quarter.
Consistent with previous expectations, revenue in North America was down 4%. Under Armour said "strong international momentum" continued with revenue up 47%, representing 23% of total revenue. Within its international business, revenue in EMEA was up 45%, up 56% in Asia-Pacific, and up 36% in Latin America.
Apparel sales increased 2% to $952m, while footwear revenue was up 9% to $246m. Accessories sales increased 6% to $111m led by men's training and running.
Gross margin in the period declined 150 basis points to 43.2% as benefits from changes in foreign currency rates and product costs were more than offset by pricing and other inventory management initiatives, and channel mix.
For the full year, Under Armour made a net loss of $48.3m, compared to net income of $198m last year. Excluding both the fourth quarter one-time charge related to the US Tax Act, and the impact of the restructuring plan, adjusted net income was $87m.
Net revenue was up 3% to $5bn, as sales to wholesale customers declined 3% percent to $3bn and direct-to-consumer revenue was up 14% to $1.7bn, representing 35% of global revenue in 2017.
North America revenue was down 5% in the full year, while continued international strength contributed to a 46% increase, representing 22% percent of total revenue. Full year revenue in EMEA was up 42%, up 61% in Asia-Pacific, and up 28% in Latin America.
Gross margin declined 140 basis points to 45% as inventory management initiatives more than offset favourable channel mix.
"After years of rapid growth and building a globally recognised brand, the dynamic landscape of 2017 was a catalyst for us to begin strategically transforming Under Armour into an operationally excellent company," said CEO Kevin Plank. "A year into this journey, our fourth-quarter and full-year results demonstrate that the tough decisions we're making are generating the stability necessary to create a more consistent and predictable path to deliver long-term value to our shareholders."
Meanwhile, Under Armour has announced an additional 2018 restructuring plan identifying further opportunities to optimise operations. In conjunction with this plan, about $110 to $130m of pre-tax restructuring and related charges are expected to be incurred.
Based on the restructuring efforts in 2017 and 2018, the company anticipates a minimum of $75m in savings annually from these efforts in 2019 and beyond.
As a result, Under Armour's full year 2018 outlook expects operating income to reach $20m-$30m, while net revenue is forecast to be up at a low single-digit percentage rate reflecting a mid-single-digit decline in North America and international growth of greater than 25%.
Neil Saunders, managing director of GlobalData Retail, notes while there is some comfort to be taken in the 4.6% revenue growth, the headline figure is driven entirely by international operations.
"While overseas growth is to be applauded, it carries investment costs and also accounts for just 25% of group revenue," he says. "As such, Under Armour is reliant on its North American operation to drive performance on both the top and bottom lines. Unfortunately, the North American division had a lamentable quarter and is the main source of Under Armour's woes."
So what went wrong in North America? For Saunders, there are a few specific things to highlight.
The first of these is the brand seems to have lost power. "Compared to last year, Under Armour was firmly off the radar for holiday gifting," he says. "In our view, Under Armour has spent too much time trying to expand its footprint and product coverage, and too little time building connections with customers."
In addition, customer service at some of its own stores leaves a lot to be desired and expansion into retailers like Kohl's has weakened exclusivity and made the brand feel commoditised and ubiquitous, says Saunders.
"These actions show in our consumer data, which reveals Under Armour has lost its way," he explains. "Consumers are unsure of what it stands for, what it specialises in, and why they should use it. For many, it has become something of an also-ran. These shallow roots are dangerous: they leave Under Armour vulnerable to competition and the vagaries of changing market conditions."
Saunders concedes Under Armour still has potential but says it needs to use the year ahead to regroup and rethink its strategy. "The company that once believed it could challenge Nike has come down to earth with a bump. Humble reflection is now the order of the day," he adds.