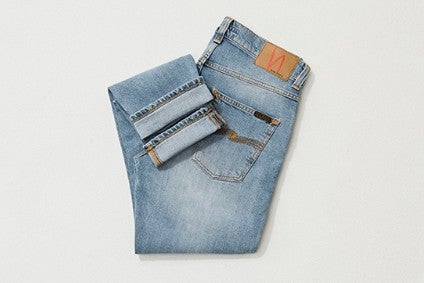 Swedish fashion company Nudie Jeans is now offering leather-free denim, having ditched its leather back patch and replaced it with a vegan alternative, made with recycled paper.
The firm, which uses 100% organic cotton, offers free repairs, and sells second-hand jeans through its 'trade-in' programme, says the switch to a more sustainable back patch was an easy choice.
"Even today the traceability of leather is difficult, and the production processes are resource intense. Not to mention the questionable and sometimes horrific situation for the animals. We know this, and we wanted to find an option were leather was not necessary," explains environmental manager Eliina Brinkberg.
"We are happy to now offer leather-free denim, and to give our customers the possibility to choose whether or not they want to wear leather."
Nudie Jeans has been looking for an alternative option to replace the leather patch for some time. The difficulty, it says, lay in finding a patch that would be durable – living through washes in production for the prewashed products, but also to live through long wear of the denim by the user, and eventually the reuse of the denim to prolong the life of the garment.
Its new Jacron patch, which is made from recycled paper that include a small amount of acrylic polymer, will be on all newly produced denim from autumn 2018.
"The added polymer is the least sustainable element with our new patches, but it was also necessary to be able to give the patch the strength needed for its longevity," Brinkberg explains.