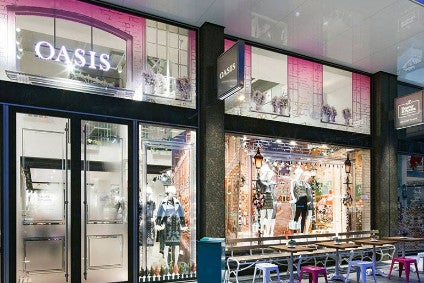 Administrators have today (15 April) been appointed to the Oasis and Warehouse fashion brands following speculation yesterday that such a move was imminent.
Rob Harding and Richard Hawes, restructuring partners at Deloitte, have been appointed joint administrators to the Group – which includes Oasis and Warehouse Limited, Oasis Fashions Limited, Warehouse Fashions Limited, The Idle Man Limited and Bastyan Fashions Limited.
The group sells womenswear under the Oasis brand, womenswear and menswear under the Warehouse brand, and menswear through an online clothing business, The Idle Man. Theey trade from 92 branches across the group's leasehold stores, with 437 concessions located in third party retailers. The operations in Ireland, Sweden and worldwide franchise partners remain outside of today's appointment.
Of the 2000 UK employees, the collapse will result in 202 immediate redundancies, while 41 head office roles are being retained to assist the administrators and 1801 employees will be furloughed across the business.
Oasis, Warehouse and Idle Man brands will continue to trade online in the short-term whilst the administrators assess options for the future.
Harding says: "Covid-19 has had a devastating effect on the entire retail industry and not least the Oasis Warehouse group. Despite management's best efforts over recent weeks, and significant interest from potential buyers, it has not been possible to save the business in its current form."
Hash Ladha, CEO of Oasis Warehouse, adds: "This is a situation that none of us could have predicted a month ago, and comes as shocking and difficult news for all of us. We as a management team have done everything we can to try and save the iconic brands that we love."
Commenting on the announcement, Nigel Frith, a senior market analyst at asktraders.com says: "And just like that – another one is gone. It seems it's becoming more frequent now and the rate that retail stores are plummeting into administration is alarming. From Debenhams and Laura Ashley, and to see the collapse of both Oasis and Warehouse all in a short space of a few weeks is worrying. Both of these are long-standing high street members – but again, it's no surprise that these are both struggling during the pandemic.
"It's evident that Covid-19 hasn't stopped for any retail name, with more obvious financial hits than others. It's also surprising that these brand names haven't fallen into any trouble sooner. Struggling online sales are likely to blame for this brand being in the red especially during the lockdown. "