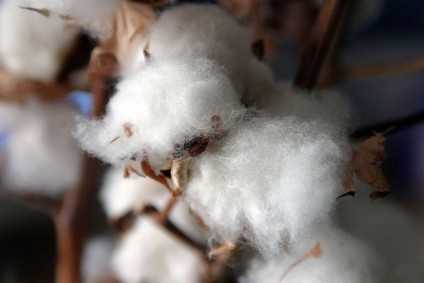 More sustainable cotton production is now successfully replacing genetically modified (GM) cotton in India, a new report has found, thanks to government support.
GM cotton was introduced to India in 2002 by Mahyco Monsanto (India) Ltd, but its initially promising performance proved short-lived as crops experienced severe pest attacks, according to a new Soil Association report. Production costs also rose threefold due to the more expensive pesticides needed to control problem insects and widespread crop failure.
Launched at the Textile Exchange Sustainability Conference in Washington DC this week, the report explains how this led to huge debts for small-scale cotton growers, which represent most of India's cotton producers, and a spate of suicides. In just one region of Maharashtra province, factors linked to the cultivation of GM cotton are reported to have led to 7,992 farmer suicides between 2006 and 2011.
GM cotton is engineered to ward off pests, but just four years after GM cotton was introduced to India, the pink bollworm, the pest the plants were designed to resist, became immune to GM cotton in Western India. In many areas, other pests took advantage of the disrupted ecological balance caused by GM cotton, leading to massive crop losses.
"Many people assume that GM crops will work miracles when, more often, the harsh reality is that GM creates nightmares," says Peter Melchett, policy director at the Soil Association.
"That is what GM cotton is doing in many countries, none more so than in India, the largest cotton producer in the world. Some of the poorest farmers in the world have been subject to a crude GM experiment that has gone disastrously wrong – and many have paid the price with their lives.
"Thankfully, with Indian government support, non-GM and organic production is now in a positive position, offering lower production costs and supporting healthier agricultural, environmental, and social outcomes."
With GM cotton seed dominating the market, organic production was threatened. Government support and local initiatives, however, have now changed this. Projects to improve the availability of good quality organic seed and Government-supported chemical-free zones, have been implemented.
Organic cotton, 70% of which is grown in India, offers a more stable, long-term solution for farmers, according to the Soil Association. The production method uses non-GM seed, follows natural approaches such as crop rotation, and makes the most of local resources, allowing farmers to grow a variety of crops for food and income alongside cotton.
Thanks to increased support from brands and retailers, the demand for organic cotton has been growing, reaching US$15.7bn in 2015.
A separate report released at this week's Textile Exchange Sustainability Conference takes a closer look at pesticide use in cotton farming – and suggests the decline has not been as substantial as some believe.