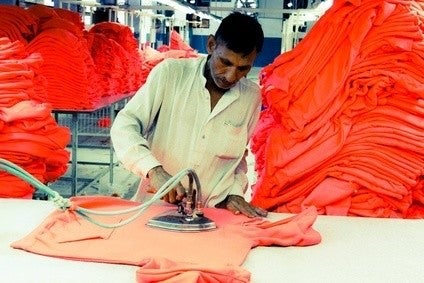 Pakistan's apparel and garment exporters have called on the country's new government to simplify what they regard as overly complex trading red-tape impeding the import of key inputs, vital for diversifying export-oriented production.
"To increase our exports, we will have to enhance our product lines and relax the existing import policy for import of raw materials," Muhammad Ijaz Khokhar, coordinator of the Pakistan Readymade Garments Manufacturers & Exporters Association (PRGMEA), told just-style.
Documentation is so complicated that merely 3% of exporters actually import raw materials while 97% do not, according to Khokhar. Meanwhile, the Pakistan's upstream textile sector's inputs are limited largely to grey fabric and yarn – production that Khokhar wants the industry to vary.
Expanding Pakistan's clothing and textile offerings to global markets is essential, he says, given Pakistan's main exports currently include denim, sportswear, towels and bedding, while international demand is growing for technical, casual, functional and fashion apparel.
But production of these items is low in Pakistan, largely because of the unavailability of relevant raw materials. For example, manufacturers struggle to source fire-proofed materials essential for technical wear.
There is some hope, however. Recently, addressing a seminar in Lahore, Abdul Razzak Dawood, the commercial policy advisor to Prime Minister Imran Khan, disclosed that a new industrial policy was being developed to make it easier to do business in Pakistan – which would include reducing import duties on raw materials.
And there are efforts to find new export market for Pakistan's clothing sector. Dawood hinted that soon he would tour Japan and South Korea to look for new business.
The government has also been talking about revising Pakistan's free trade agreement with China, including – Khokhar hopes – a relaxed visa regime for Pakistan exporters seeking trade in China. If handled properly, Chinese imports of Pakistan textile and clothing products could exceed US$1 billion annually, he says, giving a turnover base that would enable Pakistan to target markets worldwide.
"Our export capacity is up to US$10bn," he suggests, "and we can easily achieve this mark if the government understands our issues and comes up with a balanced and workable policy for import of raw materials."
Local competitors
Pakistan's total annual apparel exports are currently US$6bn, compared to Bangladesh's US$37bn.
Explaining Bangladesh's edge, Khokhar says Bangladesh's product line is 20% more diversified than that in Pakistan and "their factory management and labour is more skilful and efficient than ours."
The PRGMEA is playing its own part to boost exports, he adds, noting that it has worked with the International Apparel Federation (IAF) to bring the 35th World Fashion Convention to Lahore on 12-13 November this year. Its goal is to help pull Pakistan into truly robust growth (the Asian Development Bank projects its GDP will grow 3.9% this year) through boosting exports of value-added textile products.
The theme of the 35th edition of convention is "collaboration growth with sustainability for all," adds Khokhar. "It will open new avenues for our domestic garment industry to collaborate with the international buyers and leading global brands."
Several initiatives are also underway to shore up the textile supply chain in Pakistan: