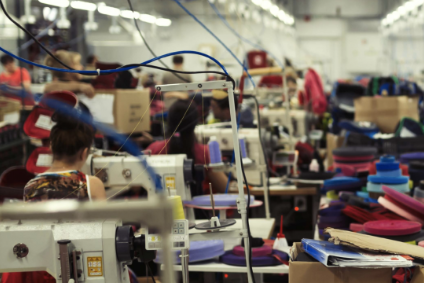 Garment workers in Serbia, Ukraine, Croatia and Bulgaria are said to be earning less than a living wage producing clothes for German fashion brands – with many having to carry on despite the Covid-19 pandemic.
According to the 'Exploitation Made in Europe' report from the Clean Clothes Campaign (CCC) and Bread for the World, around 120,000 workers across Europe are continuing to toil in high-risk environments in spite of workplace closures globally.
In particular, factories producing for German fashion brands including Hugo Boss, Gerry Weber and Esprit are accused of forcing employees to report to work despite the high risk of infection from coronavirus and in contravention of international guidelines.
Germany is one of the world's largest importers and exporters of garments. Additionally, German fashion brands and retailers are the primary buyers of fashion items from Ukraine and Bulgaria, as well as the second most important buyers from Croatia and Serbia.
"Hugo Boss always refers to its Corporate Health Award but at its Croatian supplier's bathrooms there was not even sufficient toilet paper and soap," says Bettina Musiolek from the Clean Clothes Campaign. "The crisis hits fashion retailers hard but the last in the chain, the workers, have to bear the biggest burden. I have not heard anything from Hugo Boss, Esprit or Gerry Weber on how they intend to ease this burden. Many think of this as a problem confined to Asia, but these developing world conditions are rife across Europe too."
According to CCC, garment worker wages remain extremely low in the Eastern and South-Eastern Europe manufacturing industries. A Ukrainian tailor will earn around EUR126 (US$137) per month.
"In order to make ends meet, these workers would have to earn three to five times what they earn now," says Musiolek. "This is not happening because brands like Hugo Boss, Esprit or Gerry Weber purchase their clothes from suppliers at very low prices – between less than 1% to around max 5% of the high street retail price."
CCC says apparel companies in Germany are cancelling orders and factories are being forced close – not for the protection of workers, but because there is no work. Employees reported to Clean Clothes Campaign that they must now go on unpaid leave.
"The massive human rights abuses show that voluntary initiatives of brands and retailers are failing, with no real change in the last two decades, in spite of calls for action," says Musiolek. "National and international human rights and workers rights laws continue to be flouted, even by member states of the EU. Governments and the European Union must adopt appropriate legislation for brands and retailers to implement human rights in their global supply chains. Until there is a strategic means of tackling this issue, there will be tens of thousands suffering in global brands' supply chains."
Report findings
Workers from all investigated factories reported threats, insults, humiliation and intimidation. Employees' reports about management's 'propaganda strategies' are strikingly similar across the Europe-East/South region: "[The] factory is about to close", "there is the door" and other threats of job loss.
Workers unanimously mentioned constant exhaustion and chronic fatigue. According to workers, protective measures against acquiring Covid-19 are insufficient; employees are often pressured into taking unpaid leave.
Other human rights abuses stated by workers include forced labour in the investigated suppliers to Esprit, Gerry Weber and Hugo Boss in Ukraine, Croatia and Bulgaria; as well as repression of trade union rights, especially at the Bulgarian Hugo Boss supplier.
Further irregularities reported by workers include blatant violations of the national laws in all investigated factories: irregularities concerning annual leave, sick leave, dismissal, overtime, short-term labour contracts and maternity leave.
CCC says it is urging brands like Esprit, Gerry Weber and Hugo Boss to engage with suppliers. "This means concretely that finished or in-production orders must not be cancelled and are paid fully and on time," says Musiolek. "The brands must take a stand and support suppliers to make sure that workers have safe workplaces and transport including safe distancing between employees and the provision of protective equipment which workers' reports reveal is not the case. This is a matter of urgent need."
Brand response
A spokesperson for Esprit said the fashion brand was "very concerned" by the labour conditions described in the report.
"At Esprit, sustainability and social responsibility are part of our DNA and at the heart of our strategy. Gender discrimination, repressive treatment of workers, forced labour and violation of labor laws are strictly prohibited under the Esprit Supplier Code of Conduct. On learning about the report, we immediately contacted our supplier in the Ukraine and shared the allegations with them. They strongly refute the claims in the report. Additionally, our external audit teams have recently conducted several audits and the factories all came back with very positive results. We are continuing to investigate these serious claims, though travel is impossible now due to Covid-19. We are reinforcing to all of our suppliers in the region of their obligations under the Esprit Supplier Code of Conduct to protect the rights of their workers.
"With respect to the claims around a living wage, we strongly believe that the workers making our products should be able to live on the money they earn. Low wages have been a problem in the apparel industry for many years. The only way to address this problem is for governments, brands and civil society to work together. That's why Esprit joined with other brands in signing a memorandum of understanding with IndustriAll Global Union to form an initiative known as ACT-Action, Collaboration and Transformation. ACT seeks to address the problem of low wages in the apparel industry by promoting industry-wide, nation-wide collective bargaining agreements in key apparel exporting countries. Paying workers below minimum legal wages is in violation of Esprit's Supplier Code of Conduct. In many cases, our suppliers pay workers above the minimum legal wage. We would support legislative action to lift the minimum wage in these countries."
Meanwhile, a spokesperson for Gerry Weber said it uses certified resources only for the products in its namesake, TAIFUN, and Samoon brands produced in both Europe and Asia.
"We are aiming to offer transparency about the origin of our products by disclosing the country of origin on the inside label. To achieve it is an integral target of our strategy to aim to the payment of living wages. Therefore, Gerry Weber joined the Partnership for Sustainable Textiles in 2015.
"Governments, enterprises, non-governmental organisations, trade unions and standardisation bodies can all contribute to improving and aligning social and environmental conditions along the supply chain in the long term. The Textiles Partnership was founded with the purpose of bringing these actor groups together.
"In 2010, we became an active member of the Amfori Business Social Compliance Initiative (BSCI). By joining forces with some 2,000 companies, we systematically work to achieve improvements along the supply chain and pool our resources to reach our shared objectives. We joined to make sure that our global suppliers comply with and improve international labour and social standards.
"Gerry Weber would appreciate receiving precise and traceable indication on non-compliances at our partner factories. This would enable us to start a dialogue and work on improvements in cooperation with our partner."
A spokesperson for Hugo Boss said the company has responsibility for a complex global value chain and upholds high sustainability standards.
"A responsible business conduct with all our partners is hence of great importance. Hugo Boss, therefore, strives for long-term, trustworthy relationships with our suppliers. We work with our strategic partners for an average of 11 years.
"To become a Hugo Boss partner, suppliers have to undergo a standardized onboarding process. This includes signing the Hugo Boss Social Standards, which is based on internationally recognised standards such as the core conventions of the International Labor Organization (ILO) and the United Nations Universal Declaration of Human Rights. The social standards include equal opportunities and humane working conditions, appropriate compensation, the prohibition of child and forced labor, freedom of association, and the right to form trade unions. When selecting new partners, Hugo Boss starts to verify with social audits that they meet the social standards. These audits are repeated regularly. Together with our suppliers, we develop corrective action plans. The implementation of these plans is reviewed in follow-up audits. Training courses organized by Hugo Boss help suppliers to comply with the standards. If there is a lack of cooperation and repeated violations in follow-up audits, the company will terminate the relationship with a supplier as a last resort.
"We have not yet been able to verify the accusations made in the report. In order to check whether the described circumstances correspond to reality, a careful review is necessary. We are therefore currently in close contact with the suppliers on-site to investigate the actual situation and to examine in detail the allegations contained in the report. Should the allegations prove to be true, these suppliers would violate the Hugo Boss social standards, which form the basis of all our business relationships. Accordingly, as described above, we would initiate measures to work together to find solutions and make improvements on site.
"This is in line with the fact, that Hugo Boss continuously strives to further develop our commitment towards good and safe labor and social conditions, also at our supply chain partners. Therefore Hugo Boss has become an active member with several, well renowned multi-stakeholder initiatives, such as the German Partnership for Sustainable Textiles, the Accord on Fire and Building Safety in Bangladesh and the Fair Labor Association (FLA)."