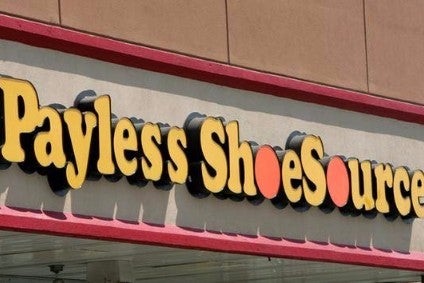 US footwear giant Payless ShoeSource has filed for Chapter 11 Bankruptcy Protection for the second time in less than two years, in a move that will see it liquidate all 2,500 of its stores in the United States.
The company, which previously filed for bankruptcy protection in April 2017, made its latest filing with the US Bankruptcy Court for the Eastern District of Missouri.
As well as winding down its store locations in North America, it is also shuttering its online operations. It expects Payless store closings to begin at the end of March with the remainder to stay open until the end of May, as it conducts liquidation sales in the US and Canada.
Certain Payless Canadian subsidiaries will also be seeking protection under the Companies' Creditors Arrangement Act (CCAA) in the Ontario Superior Court of Justice.
In a statement, Payless said its retail operations outside of North America, including its company-owned stores in Latin America, are separate legal entities and are not included in the Chapter 11 or CCAA filings. Payless' 420 stores across 20 countries in Latin America, its stores in the US Virgin Islands, Guam and Saipan, and its 370 international franchisee stores in 16 countries across the Middle East, India, Indonesia, Indochina, Philippines and Africa will continue operating as usual.
"We have worked diligently with our suppliers and other partners to best position Payless for the future amidst significant structural, operational, and market challenges. Despite these efforts, we now must wind down our North American retail operations under Chapter 11 and the CCAA," said Stephen Marotta, who was appointed in January 2019 to serve as chief restructuring officer of Payless.
"The challenges facing retailers today are well documented, and unfortunately Payless emerged from its prior reorganisation ill-equipped to survive in today's retail environment. The prior proceedings left the company with too much remaining debt, too large a store footprint and a yet-to-be realised systems and corporate overhead structure consolidation.
"As a consequence, despite our substantial efforts, we were ultimately unable to operate the North American retail and e-commerce operations on a sustainable basis."