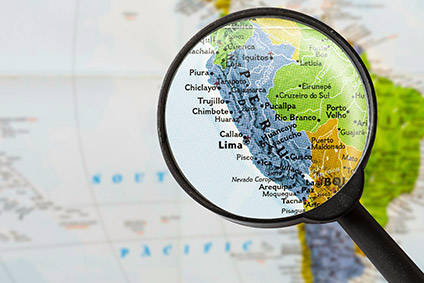 Peru's textile and apparel industry is scrambling to save hundreds of thousands of jobs as the coronavirus lockdown, newly extended until 26 April, wreaks havoc in the industry.
"We have had 140,000 people idled for 25 days," says Vicente Castro, general secretary of Peruvian labour organisation FTTP (Federación de Trabajadores en Tejidos del Perú), told just-style. "We have been paid until now and will be for another 15 days."
Castro is unsure whether Peru's manufacturers – suffering from falling sales of their key alpaca or vicunha fabrics and apparel exports – will continue to pay workers through 26 April.
He notes, however, that the industry has grown strongly in recent years and that it has enough capital to cushion employees for several more months until the economy returns to normal.
"Last year, we grew 5%, which was much more than expected," adds Castro. "The industry has benefitted from the arrival of new international brands including Nautica and brands that use our pima [high-end] cotton.."
Some of Peru's largest garment makers, including Creditex, Textil Del Valle and Nuevo Mundo, have turned to making medical gear to offset losses, churning out personal protective masks and medical gowns in line with similar trends around the world, according to Castro.
Peruvian retailers, including foreign chains such as those run by Spain's Inditex and Mango, are struggling amid heavy shutdowns that began in mid-March to control the spread of the virus, which has infected 5,200 people and killed 138.
Amid this backdrop, garment manufacturers and retailers are asking the government to set aside part of a PEN30bn ($8.9bn) credit line to help shore up a range of industries.
"We don't know how much we will ask for yet, or how much they can give us," says Raul Ortiz, who heads the textiles mission at the National Industries Association. Lima has pledged to hand furloughed workers earning less than PEN1,500 ($440) a 35% subsidy while the South American nation buckles under two months of shutdowns.
Ortiz adds manufacturers will continue to pay workers for as long as possible, but refuses to provide a timeline.
He says the sector is also asking the government to approve new reference-price measures to tackle sub-valued Asian imports, which continue to dent the sector's fortunes.
"We also want people to start consuming more 'Made in Peru' and less 'Made in the USA'," Ortiz notes. "Everything that has to do with clothing should come from Peruvian brands in this emergency and that should also include hospital gowns, masks and uniforms for our armed forces" engaged in patrolling cities to enforce the lockdowns.
Prior to the lockdowns the Peruvian government created a textile and clothing industry roundtable group charged with forging domestic backward linkages, with a focus on alpaca fibres.