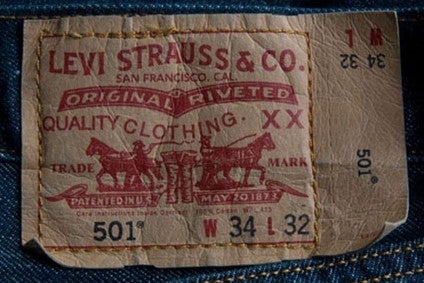 Animal rights group PETA has snapped up shares in online fashion retailer Boohoo and jeans giant Levi Strauss & Co as part of a bid to influence the companies' sourcing decisions.
The group, which claims to be the largest animal rights organisation in the world, with more than 6.5m members and supporters, last week purchased the minimum number of shares in Levi Strauss required to submit shareholder resolutions and to attend and speak at its annual meetings.
The move is part of PETA's campaign to persuade the newly-listed company, which raised more than US$623m in its initial public offering (IPO) last week, to replace leather patches on its jeans with vegan ones.
"Gentle cows are beaten, slaughtered, and skinned – all so that Levi's can tack a small, completely nonfunctional patch on the back of some of its jeans," says PETA president Ingrid Newkirk. "PETA is heading to Levi's boardroom to urge the company to stop peddling these patches, which cause cows immense pain and suffering."
PETA – whose motto reads, in part, that "animals are not ours to wear" – notes that cows killed for leather often endure extreme crowding as well as castration and tail-docking without pain relief.
In addition, the activist organisation has taken a similar approach to try to influence sourcing decisions at online fashion retailer Boohoo. The group, which includes its namesake brand, PrettyLittleThing, Nasty Gal and most recently MissPap, controversially reneged on a decision to ban wool from its product range last month.
The pledge was hailed as a milestone by PETA and was understood to mark the first time a major fashion retailer has banned the use of wool.
But following the reversal of its decision, PETA's US arm has now become a shareholder in the company so that its representatives can attend its annual general meeting later this year, speak to other shareholders and executives, and call for the retailer to commit to finally banning wool.
"As a shareholder, PETA US will be able to push the retailer's management to do the responsible thing for shareholders and animals alike by showing that no jumper or scarf is worth kicking, punching, and killing gentle sheep on the shearing floor," says PETA director of corporate projects, Yvonne Taylor.
Since 2014, PETA has released 11 exposés of 99 wool industry facilities on four continents, including in the UK, and claims "systemic abuse" was found in every one.