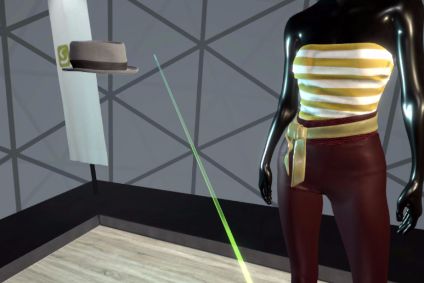 Building on its 'digital is now' tagline, fashion technology specialist HUMAN SOLUTIONS has developed what it says is the world's first virtual reality room for apparel collection coordination, designed to allow international partners in different locations around the world to "meet" and view and approve designs.
Part of its 'Digital Fashion World,' which features several rooms dedicated to the various processing steps in the apparel manufacturing chain, the group's Digital Showroom acts as a virtual meeting place for all those involved in collection development.
Developed in partnership with German software company ZREALITY GmbH and Human Solutions subsidiary ASSYST, the Digital Showroom allow manufacturers, their dealers and suppliers to meet virtually to review sketches, make live alterations, specify products and order directly from the room.
Coordinating apparel collections with international partners in different locations around the world can be complicated and time-consuming. It doesn't have to be, however, if all the participants meet in a virtual room to view and approve current designs – key in an industry in which actually experiencing the products plays an important role.
"In this case, virtual reality not only supplements existing analog processes, it even surpasses them," says Dr Andreas Seidl, CEO of the Human Solutions Group. "Virtual Reality makes the apparel industry a winner in digitisation if data consistency, system integration and 3D simulation with realistic data are available. Companies who fulfil these conditions and use the appropriate technologies can develop a decisive advantage when it comes to getting their clothing to the market fast, because the production and shipping of samples – and consequently process interruptions – are completely eliminated."
Using virtual reality glasses, participants are able to see a virtual model with the collection presented by a moderator who triggers the changing of the outfits and can highlight special aspects and make alterations directly on the virtual garment, visible to all. Participants can get very close to the model or walk around it.
Key to the Digital Showroom is Human Solutions' Vidya 3D simulation software, which simulates the human body, pattern and fabric, using real body measurements from international body dimension portal iSize, CAD patterns and real material parameters. This means that apparel manufacturers can check size and fit, fabric behaviour, drape and prints on the static or moving model, digitally and with no loss of time for different sizes.
Earlier this year, the group released Vidya version 20.17, which has been enhanced with digital shadows to highlight the edges of patches and button plackets. Material simulation has also been further optimised, with a "precise" display of a fabric's texture, appearance and drape. This also applies to the distance between the garment and the body, and the simulation of the fabric's physical properties such as elasticity so stretch can be visualised. Vidya also renders seam types and material reinforcing like zip and interlinings.
Human Solutions Group covers the entire process chain, from design to the store, and operates all over the world, with partner companies in more than 50 countries.