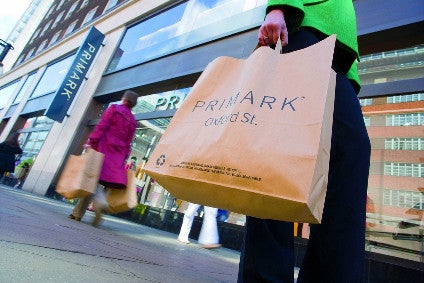 In an update prior to entering the close period for its full-year results for the 53 weeks to 18 September, Primark-owner Associated British Foods Plc (ABF) said sales in the fourth quarter were affected by the impact on footfall as a result of the changes in public health measures in its major markets to control the spread of Covid-19 and its Delta variant in particular.
"In the UK our sales were affected by the rapid and significant increase in late June and early July in the number of people required to self-isolate following contact tracing alerts – the "pingdemic". Data shows that high street footfall was impacted by the caution displayed by many consumers at that time," ABF said.
It added when self-isolation rules were eased in early August, correspondingly like-for-like sales showed a consistent improvement through the period from a decline of 24% in the first four weeks of the quarter to a decline of 8% in the last four weeks.
Despite the disruption, ABF said data for the UK clothing, footwear and accessories markets for the 12 weeks from 31 May to 22 August showed that Primark had the same value share of the total market compared to the same period two years ago.
For the fourth quarter as a whole, like-for-like sales are expected to be 17% lower than the same period two years ago.
In Continental Europe, meanwhile, like-for-like sales were impacted by the performance of stores in Spain and Portugal where the decline of foreign tourism caused by restrictions in international travel reduced footfall. Like-for-like sales for both these markets showed a decline of over 30% for the quarter compared to two years ago.
US like-for-like sales in the quarter, excluding the Boston Downtown Crossing store which has now been downsized, were 3% ahead of the same period two years ago. In contrast to Europe, the US has had minimal public health restrictions.
ABF added its inventory levels have returned to normal and all spring/summer inventory brought forward from last year has been sold and the autumn/winter inventory held over from last season will be sold in the coming months.
It is, however, experiencing some delays to the handover of some autumn/winter inventory caused by port and container freight disruptions.
Despite this, finance chief John Bason told Reuters stores were not short of product, adding the problem is "about delays rather than cancellations."
"All stores got this early autumn stock, we're fully stocked and ready for the season, there will be no shortages," he is cited as telling the publication.
The group also provided an update on its ongoing website revamp, noting a "new and improved" customer-facing website will be launched in the next calendar year.
"Improved functionality will allow us to showcase a much larger proportion of the Primark range and to provide customers with range availability by store," it added.
Elsewhere, ABF expects to open a new Primark store in the Fashion District of Philadelphia in the US on 16 September. By year-end, it expects to be trading from 398 stores and 16.9m sq ft of retail selling space, an increase of 0.7m sq ft over the year.
ABF plans to add a net 0.5m sq ft of additional selling space in the next financial year with four new stores in both Italy and Spain and one store in each of the US, Czechia, and Ireland.
For the full year, adjusted operating profit, stated before repayment of job retention scheme monies, is expected to come in ahead of the profit delivered last year.
Lack of transactional website main obstacle to recovery
Louise Deglise-Favre, associate retail analyst at data and analytics company GlobalData, notes FY2020/21 has been another difficult year for Primark, with total sales estimated to be down 28% against FY2018/19 due in part to a poor Q4 where like-for-like sales are expected to have been 17% lower than FY2018/19.
"The retailer has blamed the UK's "pingdemic" for its disappointing results over the summer as it suppressed high street footfall, on which Primark remains critically dependent as it does not have a transactional website. This is a factor that has hugely cost the retailer this year, with the online penetration for clothing and footwear forecast to remain high at 47.7% in 2021. In the next financial year, Primark is planning to launch a revamped, yet still non-transactional website and expand its digital marketing – a strategy at odds with the changing consumer habits of online purchasing accelerated by the pandemic. Its lack of a transactional website could remain a major hinderance to Primark's performance.
"The Continental European market, especially Spain and Portugal, suffered from fewer tourists due to Covid-19 travel restrictions and curfews, with like-for-like sales for these markets declining by over 30% in Q4 compared to the same period in FY2018/19. In contrast, the US achieved a 3% growth of like-for-like sales in Q4 against FY2018/19, thanks to quicker return to normality in the region. This bodes well for Primark's performance in FY2021/22, barring any further restrictions, as it shows the sales growth the retailer could achieve in Europe as the region continues to return to normality and consumer confidence rises."
On a more positive note, Deglise-Favre notes Primark forecasts its operating profit, stated before repayment of job retention scheme monies, to be ahead of last year. However, she says supply chain issues set to impact its inventory at the end of 2021 could cause availability issues for its Christmas range, potentially detrimental to next year's operating profit.
"Primark's value proposition remains attractive to consumers, especially as many will still feel financially uncertain, as it experienced good sales in its athleisure, loungewear and back to school ranges, demonstrating the resilient demand for a wide range of affordable fashion that should allow Primark to start to recover from Covid-19 in FY2021/22."