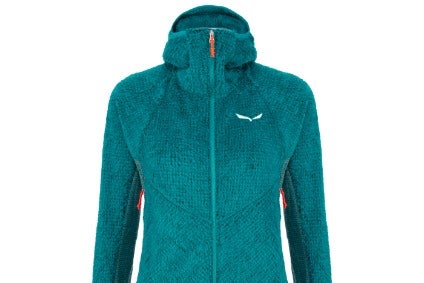 US fabric maker Polartec has developed an enhanced version of its high loft fleece made of wool, featured in a new line by mountain sports brand Salewa.
Drawing upon its expertise in engineering new fabric constructions and finishes, Polartec says it has used more wool in its fleece due to its thermoregulating comfort and biodegradability properties.
"Wool offers increased comfort by creating a microclimate next to your body, with both warming and cooling effects," the company says. "Its fibres move moisture in a vapour state, and even when wet, wool retains its insulating and breathable properties. Hidden within the construction of this new High Loft wool fleece, a synthetic core provides greater durability, shape retention and faster drying times."
In the newly designed fabric, layers of Merino wool are connected to both sides of a synthetic core to produce an advanced performance textile with the natural performance of wool and superior structural integrity of a synthetic.
The new fleece features in Salewa's latest products, including the Pedroc Hybrid 2 Polartec Alpha Jacket, and the Pedroc Hybrid Wind Polartec Alpha Jacket featuring 100% recycled Alpha Active Insulation.
Salewa says it is determined to "get back to the roots" of its brand by using more natural materials.