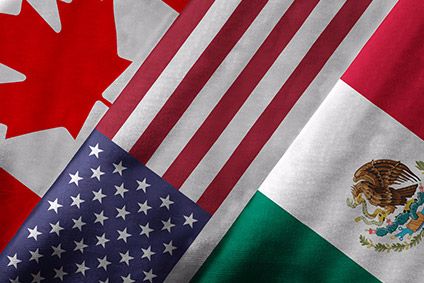 US President Donald Trump has signed the US-Mexico-Canada Agreement (USMCA) into law in a move he says ends the "NAFTA nightmare" and replaces the 25-year-old North American Free Trade Agreement.
In a ceremony yesterday (29 January), Trump signed The 'United States-Mexico-Canada Agreement Implementation Act.' The bill was approved by both the US Senate and the House of Representatives earlier this month in votes of 89-10 and 25-3, respectively.
"Today, we're finally ending the NAFTA nightmare and signing into law the brand-new US-Mexico-Canada Agreement," the President said.
"The USMCA is the largest, fairest, most balanced, and modern trade agreement ever achieved. There's never been anything like it," he added, noting the deal is estimated to add another 1.2% to US GDP and create "countless" new American jobs.
"For the first time in American history, we have replaced a disastrous trade deal that rewarded outsourcing with a truly fair and reciprocal trade deal that will keep jobs, wealth, and growth right here in America."
A statement from the White House said the trade agreement has the potential to create nearly 600,000 jobs and generate up to US$235bn in economic activity.
United States Trade Representative Robert Lighthizer, added: "The President was elected in large part on his promise to change the direction of US trade policy – a policy that for too long had led to exploding trade deficits, the outsourcing of US jobs, and the brazen theft of American intellectual property.
"For many, NAFTA came to symbolise everything that was wrong with that policy…President Trump set out to chart a new course. The Trump trade policy is designed to create more manufacturing jobs, protect America's competitive advantage in technology and innovation, secure greater market access for American businesses, farmers, ranchers, and, critically, to change the stale politics of trade by creating bipartisan consensus around a new model that works better for all Americans. The USMCA achieves each of these goals."
The USMCA makes a number of updates and modifications to NAFTA and will offer qualifying textiles and apparel, travel goods and footwear originating from the USMCA region duty-free access to the US and Canadian markets.
It also includes new provisions on textiles that incentivise greater North American production, strengthen customs enforcement, and facilitate broader consultation and cooperation among the three parties.
However, while both the US and Mexico have now approved the USMCA, Canada has only recently launched its ratification process, meaning the agreement is not likely to take effect until mid-2020 at the earliest.
Canada's Deputy Prime Minister Chrystia Freeland yesterday introduced Bill C-4, 'An Act to implement the Agreement between Canada, the United States of America and the United Mexican States', in the House of Commons.
"Today marks an important milestone in the relationship with our most important trading partners," she said in a statement.
"Just as we welcomed the approval of the new North American Free Trade Agreement (NAFTA) by the United States and Mexico, we are very pleased to take the next step in Canada's domestic ratification process so that Canadians can take advantage of the benefits of this agreement."
She added the new NAFTA "is a victory for all Canadians" and took to Twitter to announce the introduction of the bill.
This morning in @OurCommons, I introduced a Ways and Means Motion for the new #NAFTA. I ask that all parliamentarians work together to put Canada and Canadians first, and get this important work done without undue delay. #CdnPoli pic.twitter.com/p1s3wcrJML

— Chrystia Freeland (@cafreeland) January 28, 2020
According to international trade law firm Sandler, Travis & Rosenberg (ST&R), the agreement will enter into force once all three countries have verified that they have satisfied specific obligations spelled out in the deal.
Nicole Bivens Collinson, president of ST&R's government relations practice, says that is unlikely to occur before 1 July.
Industry reaction
Groups representing US apparel and footwear brands and retailers have welcomed the signing of the bill into law by President Trump, with Matthew Shay, president and CEO of the National Retail Federation (NRF), looking to the Canadian Parliament to ratify the deal.
"We believe this agreement will bring continued decades of economic prosperity that will benefit American consumers and the millions of US workers whose jobs depend on the free flow of trade with our nation's two closest trading partners," he said.
"Goods and materials have easily crossed North American borders for more than a quarter-century, and this modernised agreement will do the same for the new digital economy and set the stage for innovations yet to be seen. We hope to see the Canadian Parliament ratify the USMCA as soon as possible so the benefits of free trade in North America can continue uninterrupted."
Meanwhile, Jay Timmons, CEO of the National Association of Manufacturers, said the USMCA will "finally provide manufacturers the certainty they need."
National Cotton Council chairman, Mike Tate, added the trade agreement will provide a boost in trade certainty for US cotton and cotton textile products in the North American market, noting Mexico is the second-largest export market for US cotton textile/apparel products and Canada the fourth. He added Mexico also is a top market for US raw cotton.
The Alabama cotton producer said the USMCA, which updates and modifies the North American Free Trade Agreement, includes a textile chapter that offers significant improvements for domestic textile manufacturers and workers. Among those provisions are: a stronger rule of origin for certain regional textile products; strong customs enforcement language; and ensuring a significant amount that the Department of Homeland Security spends annually on clothing and textiles is on domestically-produced products.
Industry executives say the USMCA will strongly benefit Mexican denim and jeans makers, with overall exports potentially jumping 10% this year.
Click here to read more: Mexican denim seen as big winner in USMCA trade pact