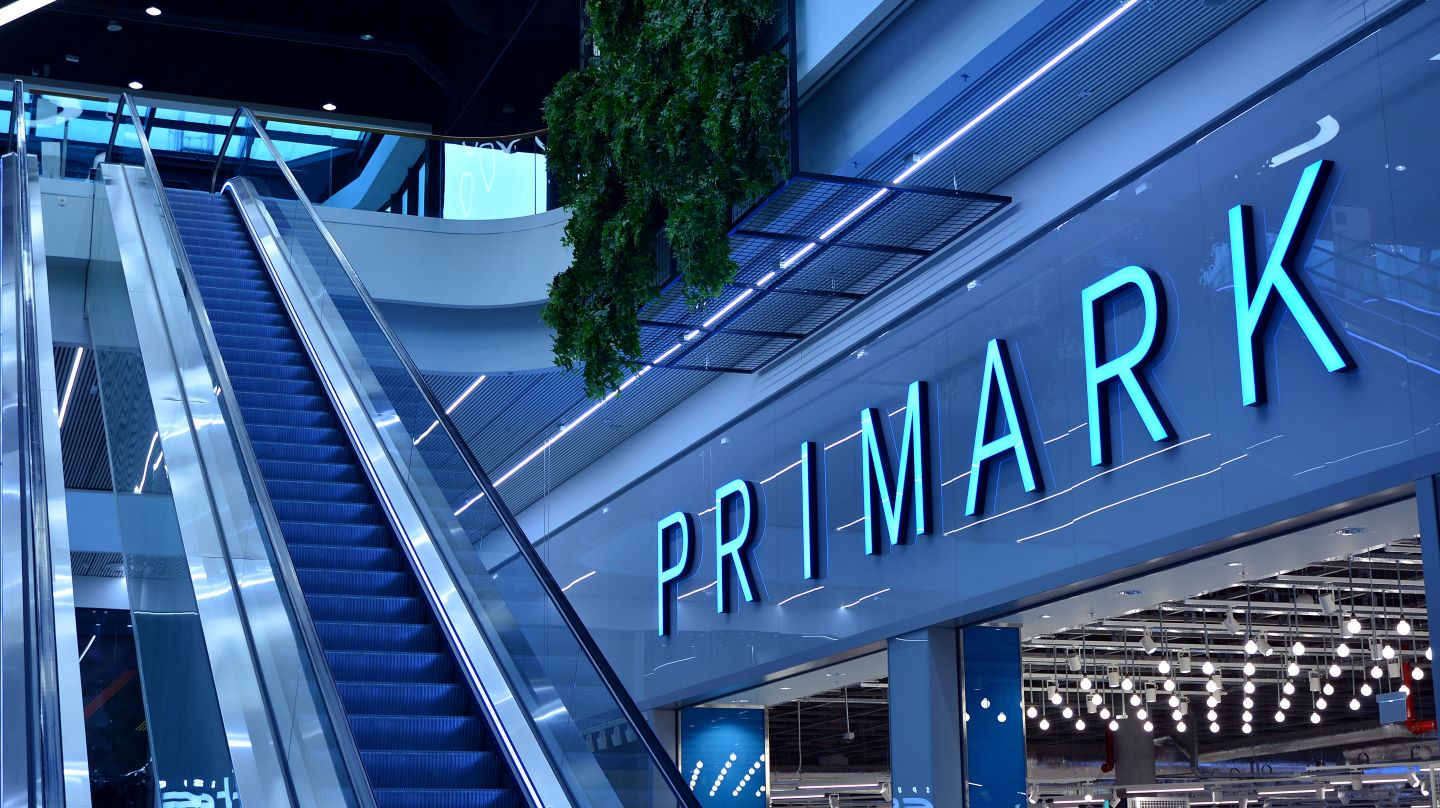 For the 24 weeks to 4 March, Primark booked a 19% jump in sales to £4.2bn after good growth in all countries.
Associated British Foods, which owns Primark, said strong like-for-like sales growth was driven by price and volume.
Primark adjusted operating profit was £351m with a margin of 8.3% against an 11.7% margin for the same period a year earlier.
"The margin reduction from last year was a result of our decision not to fully recover all the inflation in input costs," Primark said in its statement. "The cost of bought-in goods increased due to the significant strengthening of the US dollar against sterling and the euro, and higher freight rates. We also experienced inflation in labour and energy costs."
Elsewhere Primark said its digital development continues and it will be expanding its website launch to Italy, US and France in the near term, with all remaining markets to follow over the summer. Where the website has been introduced has seen "a significant increase in customer traffic".
It will also be extending its click-and-collect trial to 32 stores broadly in the M25 region (UK) by late summer.
ABF group results
Associated British Foods, on a group-wide basis, booked a 17% increase in revenues on a constant currency basis (21% actual) to £9.6bn.
Adjusted operating profit fell 7% in constant currency terms (3%) to £684m while adjusted profit before tax was £667m.
Statutory operating profit was £663m and statutory profit before tax was £644m.
George Weston, chief executive of Associated British Foods, said: "This period was marked by extreme and volatile inflation in all our businesses. We have taken considerable action to mitigate these costs through operational cost savings and, where appropriate, pricing.
"We were very pleased with the improvement in Primark sales, which recovered strongly from the second half of the last financial year and drove the operating profit margin up to 8.3%, higher than we had expected. Primark has been very successful in this period in attracting new customers with its proposition of good quality merchandise combined with price leadership and well invested stores. We have had a very strong contribution from new stores opened in the period, and today we are announcing plans for the development of our Primark business in southern states of the US."
Primark outlook
ABF sounded caution over inflationary pressures on raw materials and key commodities.
It also noted the possibility of a conflict escalation in Ukraine and said procurement teams continue to work closely with suppliers.
Rising interest rates and a slowdown in global growth, potentially leading to recession in some economies, could exacerbate debt problems, raise risks of emerging market crises, and could trigger market instability.
Michael McLintock, ABF chairman said: "At Primark, we remain cautious about the resilience of consumer spending in the face of ongoing inflation in the cost of living and higher interest rates.
"We expect like-for-like sales growth in the second half although we expect that growth to moderate from that in the first half. The cost of bought-in goods will be higher than the same period a year ago due to the particular strength of the US dollar against sterling and the euro at the time of purchasing. However, we will start to see the benefits of lower sea freight costs, which have returned to normal levels, and of much-reduced energy costs.
"Our forecast for overhead costs includes increases in in-store retail wages and incremental investment in technology. Taking these factors into account, we now expect the second half margin to be similar to that achieved in the first half and as a consequence the full-year adjusted operating profit margin to be similar to 8.3%."
Louise Deglise-Favre, apparel analyst at GlobalData commented: "Despite higher average selling prices, after the price increases it implemented in September 2022, Primark still saw a rise in volumes, as it still remains one of the most affordable retailers on the high street and therefore resonates with consumers who are looking to save on apparel purchases due to higher living costs. However, it remains cautious in its full year guidance, expecting sales to slow in the second half. Its profit margin dropped to 8.3% in H1 from 11.7% last year, due to higher production and energy costs, as well as weak exchange rates, and Primark expects this to remain stable in H2.
"Europe's like-for-like sales only grew 8%, likely due to struggling to compete with other local value players like Kiabi in France and New Yorker in Germany due to the retailer's minimal advertising, limiting the brand in capturing new consumers. However, Primark is finally addressing the underperformance it has been experiencing in Germany for some time, by embarking on a reorganization of its store portfolio to improve sales densities and better distribute its coverage across the country. In the US, performance remained more muted than in the UK and Europe at 11% despite three new store openings, as it was up against strong comparatives and the retailer faces stiff competition from other value players such as Walmart and Target.
"While Primark rolled out its improved website to Germany and Spain during the period and plans to expand it to all other markets throughout the summer, consumers will likely be disappointed that it is still not transactional. Following the "encouraging results" of its click and collect trial, which it launched for children's products in 25 stores in the North West in November 2022, Primark has decided to extend the trial to 32 more stores located in and around London. While this proves that Primark is open to exploring online retailing further, keeping the trial to only its children's range will limit its appeal, and it needs to assess how adult ranges are received online to fully judge its performance."