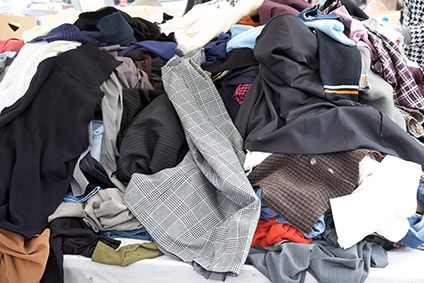 Primark, the John Lewis Partnership and Next Plc are among the first to join a ten-year voluntary clothing and textile waste programme run by UK waste recycling charity WRAP earmarked for launch in April 2021.
Textiles 2030 is said to be the most ambitious national voluntary agreement for clothing and other textiles in the world, and aims to transform the country's clothing and home fabrics to reduce their impact on climate change. It will take the UK from a make-use-dispose culture to a circular one where goods are produced sustainably, used longer, and then re-used or recycled into new products.
Other signatories include The British Fashion Council, The British Retail Consortium, Institute of Positive Fashion, Oxfam, Re-Fashion, Sainsbury's, Ted Baker, Textiles Recycling Association and Tesco.
Central is the Target-Measure-Act approach, which requires clothing and textile businesses to set targets, measure their impact and track progress on both an individual business basis, and towards national targets and public reporting. Ultimately, Textiles 2030 will reduce lifecycle greenhouse (GHG) emissions in line with the global goal of a 1.5°C trajectory, cut the water footprint of products and deliver a UK-wide circular textiles road map.
"The climate emergency is intensifying, and our resources are limited," says Marcus Gover, CEO of WRAP. "We need fast, effective action more than ever. Our research shows that people understand this, and want sustainable clothes not disposable fashion. Textiles 2030 is about transforming textiles, and taking up where SCAP 2020 left off – creating a fashion sector fit for the future."
The voluntary agreement builds on the learning and success of the Sustainable Clothing Action Plan (SCAP 2020). So far over 80 organisations across the UK have made a pledge to hit industry-led targets through the commitment.
The news comes as WRAP revealed new consumer research that found more than half of people now view the environmental impact of clothing as severe, with two in three (63%) saying clothes made to look good and last longer are now factors in the brands and clothing they choose.
The findings build on earlier WRAP research which found that the public wants inventive new retail options that prolong the life of clothes, including voucher schemes for clothing exchanges (46%), and pre-loved clothes (41%) – particularly popular among younger and 'high frequency' (weekly) clothes shoppers. Personal habits have changed too during lockdown, with one in four (23%) now repairing clothes, and one in five (19%) keeping items for longer.
Businesses are responding to public demand for clothes with lighter environmental footprints, with major brands and retailers signed up to SCAP exceeding both the carbon and water targets.
"SCAP 2020 has been an amazing journey and so much has been achieved," adds Gover. "I am hugely impressed by the extent to which we have been able to make such a difference by working together. SCAP 2020 signatories have been the recognised leaders. However, more action is needed by more companies to make clothing more sustainable. That is why we need to continue this work. Textiles 2030 will pick up the mantle."