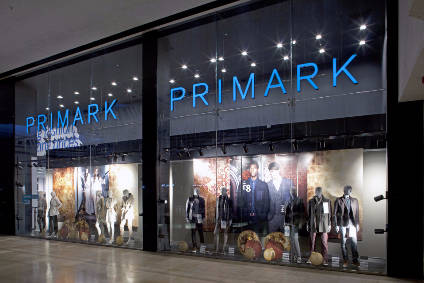 Primark-owner Associated British Foods (ABF) has written down the value of its clothing stock by GBP284m (US$349.3m) as the fashion retailer has gone from making sales of GBP650m each month to nothing following the closure of all stores in March amid the Covid-19 pandemic.
"ABF has been squarely in the path of this pandemic," chief executive George Weston said as the group announced its first-half results for the 24 weeks ended 29 February, today (21 April).
"At Primark we have 68,000 of our people receiving furlough payments from governments across Europe, without which we would have been forced to make most redundant. From making sales of GBP650m each month, since the last of our stores closed on 22 March, we have sold nothing. One of the world's great clothing retailers is entirely shut."
ABF said operating profit was "only marginally down" on last year on an IFRS 16 pro forma basis at constant currency, thanks to a smaller than expected decline in margin. Adjusted operating profit (IFRS 16 pro forma comparatives) was down 2% to GBP441m from GBP451m a year ago.
Operating margin dropped to 11.9% from 12.4% last year on an IFRS 16 pro forma basis. ABF said purchases in the first half were contracted at a much stronger US dollar exchange rate than for purchases in the comparable period last year, but the effect was substantially mitigated by both reduced markdowns and reductions in the costs of goods, primarily lower materials prices.
Revenue for Primark at GBP3.7bn, meanwhile, was 3.9% ahead of last year at constant currency and 2.2% ahead at actual exchange rates. Growth was driven by increased retail selling space partially offset by a 0.5% decline in like-for-like sales.
In the UK, Primark delivered a further increase in its share of the total clothing, footwear and accessories market. Sales were 2.7% ahead of last year, driven by a good contribution from new selling space added over the last year partially offset by a 1.7% decline in like-for-like sales. Although trading was particularly good over November and December, like-for-like sales weakened in January and especially February against very strong comparatives in the prior year.
Sales in the Eurozone were 5% ahead of last year at constant currency with particularly strong sales growth in France, Belgium, and Italy. There was a marked upturn in like-for-like sales performance for the Eurozone, which was 0.2% ahead in the period, continuing the improvement reported in the final quarter of the last financial year. This was driven by "excellent" like-for-like sales in France and Italy with ABF citing a notable improvement in Germany "at this early stage", which was delivered through a series of operational changes made by the new management team.
The retailer's US business, meanwhile, continued to perform strongly, delivering like-for-like sales growth, with particularly strong trading at the store in Brooklyn, and recording a break-even operating result in the period.
Retail selling space increased by 0.2m sq ft since the financial year-end and, at 29 February, 375 stores were trading from 15.8m sq ft compared to 15.1m sq ft a year ago.
Meanwhile, the company has written down the value of its clothing stock by GBP284m.
"We have carefully reviewed stock on hand and, to reflect an expected lower net realisable value on some of this inventory when our stores reopen, we have made a GBP284m provision," ABF said, noting following the closure of its stores, the level of inventory at Primark increased significantly as sales immediately ceased and the inbound supply chain continued for several weeks with goods in transit.
Yesterday, Primark extended support to its suppliers by committing to pay for GBP370m (US$461m) worth of additional orders, over and above the GBP1.5bn of stock already in stores, depots and in transit.
The new commitment brings Primark's total stock both owned and committed to nearly GBP2bn while its stores remain closed and follows a wages fund it established earlier this month to make sure workers are paid as soon as possible for work on its product that was in production.
"We have paid for in full, and taken delivery of, very large amounts of completed stock which we can't sell for now and we have established a fund that will ensure everyone in a vulnerable country who worked on a Primark garment, whether completed or not, is paid for that work. And we are supporting suppliers with commitments to buy garments that are as yet unfinished. But not until shops reopen and we can place new orders, will the economic hardship that Covid-19 has caused to all those in our supply chain begin to reduce," Weston said.
When the lockdown restrictions are lifted, he added Primark Stores must be safe for staff and customers, even if that means ensuring there are fewer people shopping at any one time and so accepting lower sales.
"In time we can rebuild the profits. We can't replace the people we lose," he added, noting two of ABF's employees have lost their lives to Covid-19 while another is currently in intensive care in the US.
Click here for expert reaction to Primark's half-year numbers.