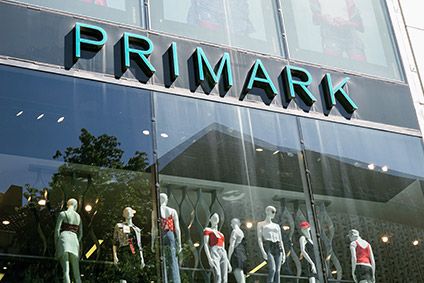 Primark is pressing ahead with new store openings and is placing GBP1bn (US$1.25bn) worth of orders for the autumn/winter season after reporting an "encouraging" start to post-lockdown trading.
The value fashion retailer has reopened all but eight of its 367 stores since the lifting of lockdowns resulting from the coronavirus pandemic. It was unable to trade at all during that time because of its lack of a transactional website.
Parent company Associated British Foods (ABF) this morning (2 July) said trading in the reopened stores has, in aggregate, been "reassuring and encouraging." Demand has been strong in particular for children's, leisure and night wear, along with summer products, but weaker for formal menswear and travel-related accessories.
Most regional stores are performing well, especially in retail parks, while stores in the centre of big cities are suffering from lack of tourism and lower commuter footfall.
Since the reopening of the first Primark stores on 4 May, cumulative sales for the seven-week period to 20 June were 12% lower than last year at GBP322m on a like-for-like basis. Sales in the week ended 20 June, with over 90% of selling space reopened, were GBP133m, and trading in England and Ireland were ahead of the same week last year.
With stores now trading, the retailer has placed orders worth over GBP800m for the autumn/winter season, with further orders bringing the total to over GPB1bn. Primark says its sourcing team is in frequent and direct contact with each of its suppliers in relation to "other supportive measures."
For the third quarter from 1 March to 20 June, Primark sales slumped 75% to GBP582m; and for the 40 weeks ended 20 June, were down 27% to GBP4.29bn.
"Nearly all Primark stores are now trading again and we estimate that, absent a significant number of further store closures, adjusted operating profit for Primark, excluding exceptional charges, will be in the range GBP300-350m for the full year compared to GBP913m reported for the last financial year," the company adds.
For the remainder of the financial year, the retailer is expected to open new stores in Florida and New Jersey, although retail restrictions due to Covid-19 may push back the opening dates. Stores will also open in the Belle Epine and Plaisir shopping centres in Paris, and Primark's first store in Poland. The retailer will also expand existing stores in Malaga and Lisbon.
ABF Group revenues for the quarter were down 39% to GBP2.16bn, and for the 40 week period, dropped 13% to GBP10.25bn.
Value offer retains appeal
"Though Primark has severely suffered since the outbreak of Covid-19, as store closures and a lack of a transactional website forced it to suspend trading for nearly three months, its sales since reopening have been promising, with revenue in the UK and Ireland for the week ended 20 June ahead of the same week last year," notes Pippa Stephens, retail analyst at GlobalData.
"However, the retailer now expects its full year operating profit for FY2019/20 to be only a third of last year's, at GBP300-350m, as ongoing weak demand for fashion products and reduced store capacities will prevent it from regaining lost consumer spend. Since online penetration for clothing and footwear will remain strengthened in the long term as a result of the pandemic, Primark should rethink its bricks-and-mortar only strategy for the future, in order to mitigate the impact of reduced in-store sales densities and capitalise on spend shifting online.
"Following its stores reopening, Primark has experienced higher footfall than its value rivals like H&M and Matalan, with many of Primark's UK locations boasting long queues as consumers have not been able to access its products since March. While its stringent safety measures, such as hand sanitiser stations and perspex screens at tills, will have given shoppers more confidence to visit its stores, city centre locations have struggled to attract shoppers due to a lack of tourism and fewer commuters.
"However, its locations in retail parks have seen the greatest uplift, aided by their plentiful parking and easy accessibility. Despite some of its new store openings being delayed due to Covid-19, five new locations opened during Q3, with five more planned by the end of the year – but Primark must time these carefully, ensuring that consumer demand has sufficiently rebounded in these areas so that the openings are financially viable.
"While clothing and footwear is forecast to be the worst hit retail sector with UK spend forecast to decline by 31.4% in 2020, Primark's value offer puts it in good stead to retain appeal among consumers as unemployment rates and economic uncertainty rise.
"Though its formalwear and accessories categories have been particularly weak, Primark has experienced encouraging demand for leisurewear and nightwear, as consumers have spent more time at home during lockdown, as well as childrenswear, which remains resilient due to a greater dependence on replacement purchases. As lockdown measures start to be lifted, consumers are likely to start seeking new clothing to wear for social events, so Primark must adapt its strategy accordingly by gradually incorporating fewer stay-at-home outfits into in-store displays and social media posts to provide greater inspiration."