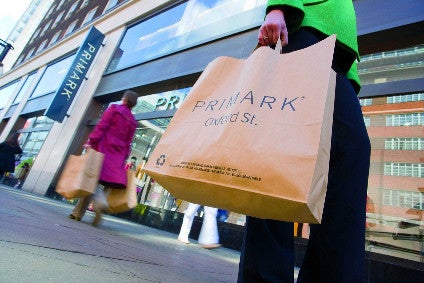 Primark is continuing to support production and orders in Myanmar despite ongoing violence across the country linked to the military coup in February – with the retailer saying the 45,000 people in its Myanmar supply chain are a "big responsibility."
The comments come from Primark's corporate responsibility lead, Katharine Stewart, who addressed a panel of UK MPs yesterday (28 April) at the Environmental Audit Committee's 'Fixing Fashion: follow-up' session.
The session aimed to explore steps the British fashion industry has taken to clean up its act since the EAC first probed the environmental impact of the sector and working conditions in UK garment factories back in 2018. This week's update also looked at what measures are being put in place to lessen the industry's social and environmental footprint.
Stewart was probed about Primark's stance in Myanmar after several fashion firms, including the likes of Benetton and H&M, suspended collaboration with suppliers in the country, and Bestseller paused the placement of new orders.
"Our primary concern at the moment is we have staff on the ground in Myanmar that are part of my team but also we have 45,000 in the Primark supply chain in Myanmar that are very dependent on those jobs.
"We have orders we placed prior to the coup. So we are continuing to support the production of those orders.
"We are also paying careful attention to the advice and guidance we're getting. We're working very closely with IndustriAll global trade union to get their support and guidance, as well the UK government in terms of how we take this approach.
"But I have to say it's a day-by-day review. We're in touch with our team on the ground on a daily basis and with our suppliers. We are monitoring the situation very closely and at the moment supporting orders that we've placed we've placed through our strategic suppliers there because you know it's important for 45,000 people – there's a big responsibility."
Stewart went on to explain Primark staff based in Myanmar are the retailer's "eyes and ears," physically going into factories and monitoring the situation as well as offering support. They are also going into the factories on a regular basis to ensure the code of conduct – which encourages factory workers to join trade unions – is being followed.
In terms of restrictions on movement, Stewart said this mainly applied to safety from the factories to residences.
"You'll have seen on the news some of the protests and damage to factories in certain areas, which seemed to target Chinese suppliers. So we've seen the impact of that with some of our factories, but then there are regions of Yangong where we've not seen that level of disruption and workers have been able to go in and out of factories fine.
"Some of the stories around how workers themselves have tried to keep factories open through this difficult and challenging time has been really moving and demonstrates the importance of those jobs.
"So we are going to have to keep really close to the guidance and what's going on and, if we can, we want to support those 45,000 people."