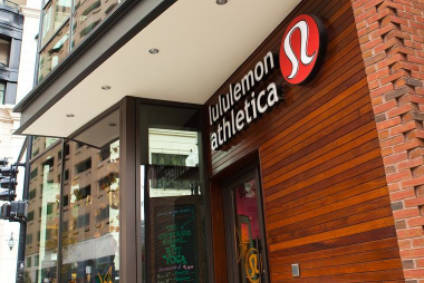 Supply chain efficiencies, boosted by Lululemon's new five-year strategic plan, will drive growth at the brand believe industry experts.
Lululemon announced the "Power of Three" five-year plan today (25 April), which aims to drive product innovation, create integrated omni-guest experiences, and expand deeper in key markets around the world, ultimately boosting revenue and earnings growth.
Specifically, the growth strategy includes a plan to double men's and digital revenues and to quadruple international revenues.
"We're ready to build upon our success and embark on the next phase of growth at Lululemon to realise the full potential of our brand," says CEO Calvin McDonald. "We believe Lululemon has a unique opportunity to push beyond traditional expectations to develop innovative products and become a fully experiential brand that creates compelling experiences for guests who want to completely live into the sweatlife."
The first focus area, aimed at more than doubling the size of its menswear revenues by 2023, is product innovation. In addition, it plans for continued expansion in the women's and accessories businesses. Both existing and new product categories are expected to grow, with lines supporting yoga, running and training. The company also intends to continue its product collaborations, expand its office/travel/commute category, and pursue new opportunities, such as self-care.
The second focus area is omni-guest experiences where again it plans to more than double its digital revenues by 2023, by focusing on offering an integrated guest experience across channels such as events, dynamic new store formats and its membership programme.
Thirdly, Lululemon is eyeing a quadrupling of international revenues by 2023 by leveraging its agile store formats, digital experience and community connection in the markets it is present in. It will continue to expand across China as well as the Asia Pacific and Europe Middle East and Africa regions. It also believes there is "considerable growth potential" in both the US and Canada.
Other key financial drivers of the Power of Three strategic plan include: total annual revenue growth in the low teens for the next five years; modest gross margin expansion annually; modest SG&A leverage annually; operating income growth to exceed revenue growth annually; EPS growth to equal or exceed operating income growth annually; annual capital expenditures of 6-8% of revenues; and annual square footage growth in the low double-digits.
"Our new five-year strategic plan reflects the potential we see across several areas of our business. The three main growth pillars are consistent with our prior plan, and we will continue to grow our core business while expanding into new categories to drive earnings growth and shareholder return," says PJ Guido, the company's chief financial officer.
Dominant position
Susan Anderson, analyst at B Riley, is "impressed by Lulu's dominant position in aspirational athleisure wear" and believes it can continue to gain share of the market (particularly in men's) through innovation, expanded product categories and significant international growth.
John Kernan, analyst at Cowen, also applauded the announcement, giving an 'outperform' rating "on the basis of management's ability to unleash the full potential to become an experiential brand that ignites a community of people living the 'sweatlife'."
Commenting specifically on supply chain speed and efficiencies, Kernan says investments by Lululemon management between 2014-17 helped, in part, to drive up its gross margin by +680bps between 2015-18 against a planned +300bps. This was driven by sourcing efficiencies across design, buying and merchandising teams.
"Over the next five years, supply chain benefits to GM are expected to continue to come from its segmentation strategy and rising scale, but also from distribution network efficiencies, supporting ongoing high ROIC (return on invested capital) levels of greater than 40%. Product cost improvements will be the biggest driver of gross margin improvement," he adds.
Research released earlier this month found athletic brands such as Canadian yogawear retailer Lululemon are seeing a surge in appeal with teens in the US, a new survey has found, as casualisation of fashion continues and footwear is gaining wallet share. Lululemon, in particular, hit an all-time survey high.