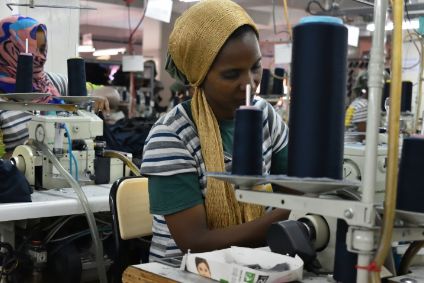 Workers in Ethiopian garment factories are continuing to earn chronically low wages and are discriminated against for union affiliations, a new survey has revealed.
The survey, which was led by the WageIndicator Foundation and the Confederation of the Ethiopian Trade Unions (CETU), found more than 90% of workers surveyed across 52 garment factories in Ethiopia are earning less than the minimum living wage.
The study, which was conducted by Mywage.org/Ethiopia and funded by Dutch trade union Mondiaal FNV, saw 1,062 workers interviewed across factories in Addis Ababa, Oromia, and Hawassa.
"The aim of this project is to enhance social dialogue and to improve working conditions in this sector," the group said.
According to the findings, 92.5% of workers surveyed are earning less than ETB4,130 (US$144.80) – the minimum amount report authors say is needed by an individual to live in Ethiopia.
57% of survey respondents is earning between ETB1,000-ETB2,000 per month and 26% are earning between ETB2,000-ETB4,000. Only 6% take home ETB4,000-ETB6,000.
The lowest compliance rates were found to be in areas of worker rights to strike and discrimination on grounds of trade union affiliations and health and safety. Only 23% of factories were reported as having employers that acknowledged worker rights to strike. 45% of factories had employers that did not discriminate workers based on trade union affiliation. And 42% of factory worker employers trained workers on health and safety issues.
However, in terms of compliance where overtime payment was concerned and that child labour was not practised, and that workers were not discriminated against based on religious practices, more than 95% of the interviewed factories were found to be compliant.
Last year, a meeting was held in Addis Ababa between international stakeholders and the Ethiopian government to remind the latter of its obligations to fully implement Convention 87 on freedom of association and the right to organise.
A spokesperson for WageIndicator told just-style the discussion with employer representatives following the survey results was "effective" and that there was a "really collaborative attitude" between the parties.
Meanwhile, both employers and trade unions agree that wages are low, the spokesperson said. The survey found the main reasons for this are low productivity, low-skilled workers, and higher production costs since the sector is only at an emerging stage, and no legislation around minimum wages.
Additionally, some workers receive benefits external to the salary package, such as meals, transport and other productivity-related incentives.
Solutions proposed during the meeting were that collective agreements should contain salary increases on an annual basis and based on achievement of targets and profitability of the company; that worker productivity should be enhanced; trained labour should be supported, and that minimum wages should be set by the government.
"In general, the employers and CETU agreed on the importance of strengthening the trade unions and the social dialogue at bilateral and tripartite level. They requested a consistent meeting (annually or quarterly) and information sharing among the key stakeholders, and that CETU should take the lead," the spokesperson said. "A shared plan to address major problems should be activated, with clear roles and regular updates. A constant follow-up and monitoring and evaluation are needed."
Going forward, the project plans to talk to more workers at different factories and review progress of the factories that have already been interviewed.
"We would like to enhance social dialogue and improve the issues spotted in the factories. As to living wages, we will keep collecting prices and interviewing people in the three regions to have more recent and consistent data. We will also publish regional data compared with regional wages."