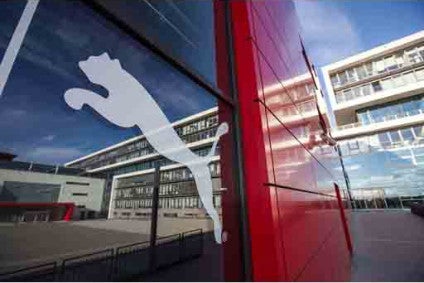 German sportswear brand Puma has recorded a jump in first-quarter profits to EUR109m (US$132m) from EUR36m a year earlier, with CEO Bjorn Gulden upbeat about the year ahead despite ongoing uncertainty.
Sales for the period were up by 25.8% currency adjusted to EUR1.55bn, or by 19.2% on a reported basis.
All regions and product divisions supported the sales growth with a currency-adjusted double-digit increase. Americas was up 38.5%, driven by North America, Asia/Pacific grew 28.8%, led by Greater China and EMEA was up 14%, despite lockdowns in Europe.
The growth was lead by footwear, where sales climbed 27%, and apparel, with sales up 27.2%, based on strong demand for running and training as well as sportstyle categories.
Puma's wholesale business, meanwhile, increased by 24.3% to EUR1.2bn, while the Direct to Consumer business (DTC) increased by 31.3% to EUR346.8m, driven by strong growth in e-commerce of 74.9%.
Puma said at the end of April, about 30% of its retail stores in Europe and Latin America are still closed due to local lockdown measures with the remaining 70% operating with significant restrictions.
With global Covid-19 cases rising again sharply, Puma is expecting fresh restrictions and lockdowns in other parts of the world such as India, Canada and Turkey and foresees a continued negative impact of the pandemic on its business throughout 2021.
In addition, supply chain issues due to container shortages and port congestion especially in North America as well as recent political tensions in key markets are also leading to increased uncertainty in the industry.
Gulden said: "Despite the uncertainty about the longevity and impact of the Covid-19 pandemic, continued capacity issues and cost increases in global freight and a tense political situation between key regions that could have a negative impact on our industry, we feel confident that 2021 will be a better year than 2020. We believe that we should achieve a full-year sales growth in the mid-teens and that we will achieve significantly better profitability compared to last year.
"2021 will, unfortunately, be again a year with a lot of uncertainty which will make efficient operations and accurate planning difficult. Our objective continues to be maneuvering through this difficult time as well as possible in the short term without hindering the mid-term momentum of Puma. We will continue to invest in product and marketing, strengthen our relationships with our retail partners and do everything we can to please our consumers.
"The Covid-19 pandemic will probably continue to impact our industry throughout 2021, but we feel very confident for the mid-term future of Puma and our industry."