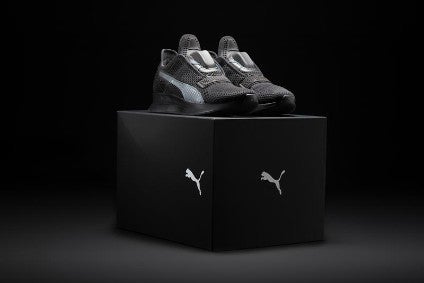 German sportswear brand Puma has launched a self-lacing training shoe as the first product in its new Fit Intelligence technology platform designed to automate and fine-tune performance fit for its footwear.
Fit Intelligence (Fi) can be deployed to a range of different sport and lifestyle items and is part of Puma's vision for performance products that are adaptive, dynamic and respond to athletes and their environment.
The first Fi footwear style is a training shoe that is made for workouts and light running. It employs a micromotor to power a uniquely configured cable system that 'laces' the shoe, through simply swiping on the Fi module up or down.
A smart sensing capability learns the foot shape of each user and adapts the fit of the shoe to the individual. Athletes can also monitor, adjust and fine-tune fit through a smartphone app or using their Apple watch.
"We have created a product that speaks to the future of sport which is life in motion. It's fast and changing all the time," says Charles Johnson, Puma's global director of innovation.
Fit Intelligence is a progression of the AutoDisc wirelessly connected adaptive fit shoe launched by Puma in 2016. The technology is smaller, lighter and more commercial, with a breathable upper for more comfortable training. It also comes with an industrial grade fibre support system strategically placed for optimal hold and a forefoot lockdown band.
Puma will now beta test Fi, asking users to give feedback on the design, engineering, and wearability of the shoe so it can "create the best smart fitting product in the market."