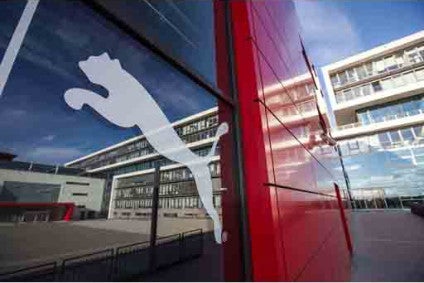 Puma has booked a 61.6% plunge in first-quarter profits as sales were "heavily impacted" by Covid-19.
In its first-quarter earnings statement today (7 May), Puma said net income for the quarter was EUR36.2m (US$39m) compared with EUR94.4m a year earlier. Operating income, or EBIT, was 50.1% lower at EUR71.2m.
Sales, meanwhile, fell 1.5% to EUR1.29bn and were down 1.3% currency adjusted.
Region-by-region, sales were 3.5% higher in EMEA at EUR518.2m, 3.1% higher in the Americas at EUR426.6m but 12% lower in Asia/Pacific at EUR355m.
Bjorn Gulden, CEO of Puma, warned the second quarter, financially, "will be even worse" since more than 50% of its global sports and sports lifestyle space is closed.
"We are mitigating the impact on our revenues wherever we can by focusing on eCommerce and the markets that are opening up again," he said. "We are working with our factories and other partners in our supply chain to minimise the damage, assure timely deliveries, avoid excess stock as much as possible and to find fair solutions for all of us. We have asked all partners to get additional financing to ensure operations through this crisis and we have just secured a EUR900m revolving credit facility (RCF) to bridge the time with reduced inflows ourselves.
"Given the uncertainty of the development of Covid-19, we are not in a position to estimate the impact for the full year. 2020 is and will be a difficult year, but we do everything we can to recover and to get back to strong growth in 2021."
Going forward, Puma says it is seeing improvement in APAC, particularly where China and South Korea are recovering, and it is seeing the first stores opening again in some of the European countries.
"The distribution in Americas is still almost fully shut down. E-commerce is growing at a very high rate, but this growth cannot in any way compensate for the revenue loss in the other channels.
"Given that a large proportion of the global sports and sports lifestyle distribution is currently closed, that consumers are still concerned about their health and safety and that we at Puma is currently achieving only about 50% of normal revenue, we expect the financial performance in the second quarter to be worse than in the first quarter. The development over the coming weeks and months is so unpredictable that we cannot provide a reliable financial outlook for the full year 2020."